'It's OK to miss your child's birthday' Katie Hopkins argues on This Morning
Katie Hopkins shocks mums over her views on celebrating her children's birthdays on This Morning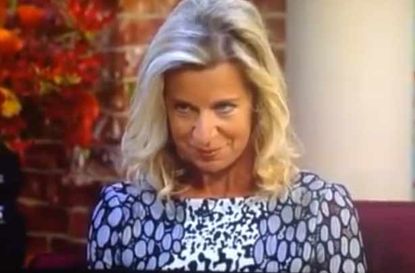 10th September 2013: Holly Willoughby and Phillip Schofield argue with former Apprentice star Katie Hopkins over celebrating her children's birthdays.
Katie Hopkins, who has 3 children, said that she didn't agree that a child's birthday is their special day, much to the horror of hosts Phillip Schofield, Holly Willoughby and guest Shona Sibary, writer and mother of 4.
Katie said: 'Too many children are seen as too special and have everything - bags of presents from Early Learning, bags of presents from Toys R Us. I think it's really important that children learn that mummy has to work in order to provide for us all and at the weekend or at a convenient time we'll pick up and have a birthday then.'
Holly appeals to Katie, asking her if the day isn't a special day for her too because she can remember the day she gave birth to them, but Katie dismisses the comment as 'overdramatic'.
A shocked Shona adds: 'I can't believe that you're suggesting it's OK for your children to wake up on the morning of their birthday and not open any presents.'
But Katie replies: 'Their presents are in a room and it's their choice whether they open it on their own or they can wait until I'm back at the weekend and we'll open it together. It's their grown-up choice to make.'
Phillip then asks Katie if it's true that she holds one combined party every other year for her 3 children. When she admits it is, he asks: 'Are you tight?'
'I'm efficient,' Katie replies.
Watch the argument unfold on our clip and the insults start flying!
http://www.youtube.com/watch?v=KyCpNXdwxI0
So what do you think? Is it OK to not be there on your child's birthday? Is it OK to postpone it? Is Katie being selfish or realistic? Let us know in the comments section below or on our Facebook page.
Where to next? - More Katie Hopkins: 'I judge children by their names' - Children's parties - ideas and inspiration - Party presents for kids