Party presents for kids: The best gifts to buy children of all ages
In need of some inspiration?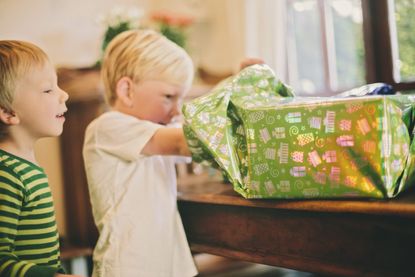 (Image credit: Getty Images)
GoodTo newsletter
Sign up to the GoodTo Newsletter. You can unsubscribe at any time. For more information about how to do this, and how we hold your data, please see our privacy policy
Thank you for signing up to . You will receive a verification email shortly.
There was a problem. Please refresh the page and try again.
Every week that goes by there's another child's birthday to think about - whether it's a school buddy or a family friend, the party invitations just keep coming.

Of course, with this comes the important birthday party (opens in new tab) presents. But with so many in a year - the cost of gifts can really add up.
We've rounded up some brilliant party presents that don't break the bank (most of the suggested items cost no more than £10). Our selection caters for different tastes and ages - so there's something for everyone.
There's no need to spend hours browsing online - we've done all the hard work for you. Here are some of the best party presents for kids...
Best party presents for kids
A hula hoop
A hula hoop is not only fun but it's a great form of physical activity (so is likely to tire kids out). Hoops for children are usually priced at less than £10 and, being plastic, they tend to stand the test of time. They also come in all different colours and patterns, from circus-themed stripes to glittery ones. This gift is best suited for children over the age of 4 (as little ones might find it a bit too challenging). In terms of size, a 34 – 36 inch hoop will be best for 4-6-year olds, while a slightly larger 36 – 39 inch hoop is likely to work for 7-9 year-olds. Kids over 10 might be able to use an adult hoop.
Art and craft sets
Art and craft sets of any kind go down a treat with kids. It's an opportunity for them to show off the individuality and put their own creative stamp on something. There are lots to choose from - from paints and colouring packs to mix and match ones with stickers, stamps and more. They also vary in degrees of sophistication, some sets designed for younger kids have more child-friendly features (like colouring books), whereas others aimed at older children have sketch pads for them to try their own designs.
Kits for making friendship bracelets
Most of us remember having some kind of friendship bracelet with our best bud as a child. Well, now there are sets available which allow children to build their own. These crafty kits usually come with coloured threads which can be weaved in different ways to create various patterns. They also contain templates for children to follow - but others could easily be found online, too.
Juggling balls
A set of juggling balls is a great gift for children of all ages. Not only are they a brilliant challenge for kids to try and accomplish, but they also help develop children's hand-eye coordination skills. Traditional balls are soft and durable and keep their shape after being dropped multiple times - this also means that kids won't get hurt if they get hit by one.
Toy cars
A present that's both impressive and affordable is a set of toy cars. Usually they come in packs of 5-10 and don't cost more than £10 - so you really are getting your money's worth. Lots of kids are fascinated by cars because it's something they can relate to in real life and this interest can kick in from a young age. For smaller kids, simple model cars which can be pushed around work well, but older kids might be more interested in remote controlled versions and the ability to 'drive' them.
Playdoh
Playdoh is a great gift idea for younger children as it allows them to use their imaginations to make interesting creations. It's quite literally a little one's dream, as it can be squashed, squeezed, rolled, flattened, chopped, cut, scored, raked, punctured and poked and still stays strong. It's popular with parents, too, as it helps strengthen the muscles in tiny fingers - the same ones which will be used for writing.
Walkie talkies
Walkie talkies can provide hours of fun for kids, from hide and seek games to adventure hunts - the possibilities are endless. They're also a great option for children with siblings old enough to play. Most children's walkie talkies are easy-to-use with a little button on the side used for communication.
Jigsaw
Let's not forget about the humble jigsaw and the enjoyment it can bring. Obviously, it's important to check the age suitability of a jigsaw (it's probably not the best idea to give a five-year-old a complex 1,000 piece puzzle), but age-appropriate products go down a treat with kids. There are lots of different types to choose from based on a child's interest, from popular animals to characters from TV shows and films.
Space hopper
Brilliant for energetic kids, a space hopper can be used in either a garden or a play room. Space hoppers are the ultimate crowd-pleaser, as they can be enjoyed by younger children who just enjoy bouncing up and down, or by older kids who like to race each other.
Skipping rope
Perfect for single or group play, a skipping rope is a great addition to playtime - so is an ideal present. Available in all sorts of themes, colours and designs, there are so many different types to choose from, ranging in price - depending on how much you're wanting to spend.