Jacqueline Jossa slams critic after comment about stepson Teddy Osborne not appearing in photographs
The actress was less than impressed and quickly gave the Instagram follower a piece of her mind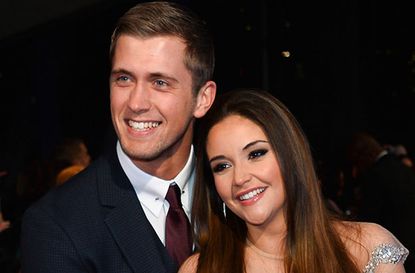 Jacqueline Jossa has hit out at an Instagram user who made a comment about stepson Teddy not appearing in photographs on the actress' social media account.
The EastEnders star riled up the follower by sharing a picture of her daughter Ella posing by a beautifully decorated tree on the day the critic believed to be Teddy's birthday.
'How weird your husband posts about his little boy's birthday and yet you post about this which is happening xmas day - you could have saved this until tomorrow and maybe done a post about Teddy for a change', the critic said.
Jacqueline - who was a key character in this year's Christmas storyline along with on-screen dad Max Branning who is played by Jake Wood - was quick to fire back.
'If you knew anything, you would realise how silly you are', she wrote.
'For one thing, it wasn't Teddy's birthday yesterday it's today. And another, I'm not allowed to post pictures of Teddy to respect his mum's wishes, so I don't.'
The actress continued by explaining that she in fact cares deeply about her husband's little boy.
'I have lots, planned his whole birthday party and love him very much, not always easy for me to not be able to post about him. There are pictures, there are videos just not public, and that's perfectly fine.'
Jacqueline met TOWIE hunky Dan Osborne at an awards ceremony back in 2013 and delighted fans by announcing she was expecting his child in September 2014. The couple welcomed a baby girl into the world in February the following year.
Teddy - Dan's son from a previous relationship - was 13 months old when Ella was born.
After a long engagement, Jacqueline and Dan tied the knot at a romantic ceremony in June last year, surrounded by family and friends. The wedding took place at a picturesque manor house previously owned by Take That's Gary Barlow in Cheshire.
Jacqueline walked down the aisle wearing a show-stopping lace dress to a rendition of Bryan Adams hit Everything I Do (I Do It For You) by American singer Scott Allan.