Actor Jamie Dornan admits he's still dealing with his mother's death after two decades
The actor is supporting a charity for pancreatic cancer sufferers.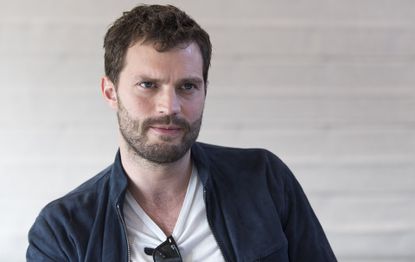 (Image credit: Sundholm Magnus/action press/REX)
GoodTo newsletter
Sign up to the GoodTo Newsletter. You can unsubscribe at any time. For more information about how to do this, and how we hold your data, please see our privacy policy
Thank you for signing up to . You will receive a verification email shortly.
There was a problem. Please refresh the page and try again.
Jamie Dornan lost his mother to pancreatic cancer at the age of 16 and the loss still affects him every day.
The actor, best known for his roles in 50 Shades of Grey and the BBC's The Fall, opened up on Jay Rayner's podcast, Out To Lunch With..
He said: 'Yeah my mum died when I was 16 that was obviously a life-altering, insane, horrendous thing to happen. Then four of my mates killed themselves in a car crash when I was 17.
'I had a very rough couple of years that I guess I'm still dealing with both of [those] things today, every day.'
The dad also revealed that he used to drink to cope with his grief, and took a stranger telling him that he was depressed during a job interview for him to realise how he was feeling.
He added: 'But I guess they were very acute still then, and I drank a lot of everything but I had this summer where I'd go out a lot, drink, not really achieve anything.
'I had a summer, I dropped out of university and I was doing a marketing degree and no interest in any aspect of marketing, and I thought "Well f**k this, I'm going to leave."
'I remember having this idea that I wanted to change and I knew I wasn't on the right path and I needed to do something else, and I got into an interview once and I was explaining what I got up to that summer, and the interviewer goes "So you're depressed" and I was like "Oh s**t yeah".
'I'd never seen it that way but I must have been depressed.' The star had previously spoken candidly about his loss to help raise awareness for the charity NIPanC which helps pancreatic cancer sufferers.
Jamie attended a charity launch at the Mater Hospital in Belfast and told the Press Association: 'It has an ever evolving effect on me, that loss, and I wouldn't wish it on anyone.'
The 35-year-old added: 'I feel like every single day it has an effect on me in ways which I am aware of and some ways I think I am not aware of. But, I am not alone in that, lots of people have lost people that are very dear to them at a young age.'
Jamie explained that his mother, Lorna, was diagnosed with the disease when he was 14 and passed away very soon after his 16th birthday in 1998.
Speaking about how he struggled with the loss Jamie explained that when you are younger you're almost in denial about the situation.
He said: 'Every kid at that age is naive, I felt like I was particularly young and naive at that time. I was a wee bit behind compared to my mates growing up, but I had to grow up pretty fast after that.'
Jamie is now a patron for the charity and hopes that with his backing the charity achieve its goal of raising awareness and promoting better outcomes for pancreatic cancer sufferers in Norther Ireland.
Around 270 die a year from pancreatic cancer in Northern Ireland and it has one of the lowest survival rates of any type of cancer.
He was joined by his sister and father at the opening of the charity which has launched in partnership with Pancreatic Cancer Action and the Pancreatic Cancer Research Fund.
Explaining his decision to back to charity Jamie said: 'I just don't think anything like this existed, on such a level (when my mum was ill). It would have been fantastic to speak to other people going through the same sort of awful situation that we found ourselves in.'
He finished by saying: 'I feel privileged to play some part in drawing attention to this illness and I feel quite determined to try and help in whatever way I can to change the statistics on this illness which are still pretty bleak, and I don't think there has been a great improvement on them in 40 years.
'The more we can do to try and raise awareness and catch it earlier, and be more aware of the symptoms in that little window of time, to achieve that too.'