Jamie Oliver confirms baby name with adorable family photo
Welcome to the world Rain Rocket Oliver!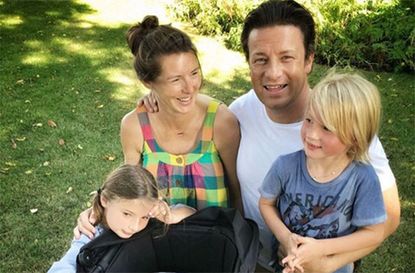 Jamie Oliver has finally confirmed the name of his fifth child - River Rocket Oliver!
The star took to Instagram to share a pic with wife Jools and two of his brood, along with their new baby brother, and revealed the name in his caption.
Jamie wrote: 'Wow what a Hot Day today guys 😎 so the littlest one is stared out ⭐️☀️⭐️ and sleeping again.....it's probably polite to formally introduce the new boy to you, his names River Rocket Oliver we think it suits him and he's a little gift and we are all very happy.... Thanks for all your kind wishes big love jamie and gang X X X'
The confirmation comes after Jools dropped a massive hint to the name of their baby boy in a previous Instagram post, adding a picture of what appeared to be some wall art for the new baby's room with her 369,000 followers. The picture read 'Dream Big River' accompanied by a caption of a rocket emoji and blue heart emoji, pointing at the name River Rocket Oliver.
Fans went into melt down, professing their love for the choice. One Instagram user commented 'Love the name' and another added 'beautiful'.
River Rocket will be the latest name to join the line up of kooky choices including Daisy Boo, Poppy Honey, Buddy Bear and Petal Blossom.
The Oliver family haven't been shy about showing baby River off to the world and have taken to Instagram to share some cute snaps.
Jamie Oliver posted an adorable, and pretty funny, photo of him and his new baby boy hanging out in a vegetable patch.
Staying true to his passion for food, just days after welcoming his fifth child home, Jamie was already introducing him to his home grown vegetables. Considering the TV chef disciplines his children by making them learn herbs by scent, it doesn't surprise us that he's started young with this little one!
Seen cuddling the little one, Jamie captioned the post with a positive message, obviously still thrilled by the birth of his youngest, 'Hanging out with my boy in the veg patch!! As you do ... big love guys, happy Thursday jamie o xx X xx'
Jamie Oliver's mum, Sally, has also been showing off her new grandchild following his birth on Sunday 7th August.
The proud grandmother posted a gorgeous photo of Petal, six, holding her newborn brother carefully on her lap on a window seat. She captioned it with a heart-warming message, 'Our little granddaughter, Petal, with our brand new grandson'.
The TV chef and his wife took to social media to announce the birth two weeks ago, with Jamie posting a sweet picture and the caption: 'And then this just happened guys !! IT'S A BABY BOY !! 😀 Everyone in the Oliver family is very surprised and beyond happy.
'He arrived safely, mum / @joolsoliver was really really amazing, unbelievably composed, natural birth and my two eldest Girls got to come in at the very end as the baby was born which was amazing to witness very very emotional. 8 lbs ( that's 16 packs of butter for you bakers out there) anyway were all hitting the hay it's been a long day big love... bless a little baby boy Woop Woop !!!! And love to all you mums out there how amazing you are it blows my mind .... Big love jamie o p.s no baby names yet'
New-mum Jools also couldn't wait to share her own snap on Instagram, posting a picture of her breastfeeding her new son and the caption: 'Little baby boy Oliver has arrived we are so very happy, blessed, grateful and totally in love all over again and so very proud of our two eldest daughters who cut the cord ❤️ Jamie was my hero 💙 (no name yet)!!! XXXX'
Fans were quick to congratulate the pair, posting messages on their gorgeous family snaps. One wrote: 'Your beautiful babies look all the same! Brilliant congratulations ❤️😘' while another added 'Gorgeous baby boy ! Congratulations to you both. 👶🏻💙'
Jamie later added a second snap of his son, writing, 'Morning Son ..... I can't imagine I'll ever take a better selfie, he's so sweet. Big love guys Jox X X X X X thanks for all your good wishes I really appreciate them X x'
The newborn joins the couple's four other children - Poppy Honey, 14, Daisy Boo, 12, Petal Blossom, six and Buddy Bear, five.
The arrival of a little boy will be happy news for dad Jamie, who recently revealed that he was hoping for another son.
'I thought we'd have a couple of kids but that's about it. Basically, I do what I'm told, but she's an amazing family maker and I just go with it.
'A bit more testosterone would probably be a good thing, but do you know what, I'm just grateful for whatever I get if it's healthy.'
Welcome to the world River Rocket Oliver!