Jonathan Rhys Meyers' wife Mara Lane confirms heartbreaking miscarriage news
The couple share one child, a son called Wolf, who was born last year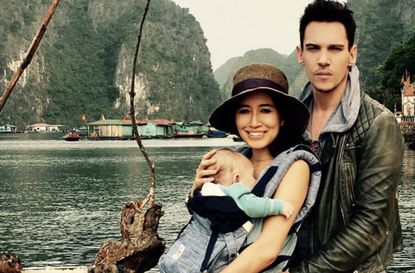 Jonathan Rhys Meyers' wife Mara Lane has shared the heartbreaking news that the couple have suffered a miscarriage (opens in new tab).
Taking to Instagram Mara, who was expecting the couple's second child revealed to fans that her husband, who is a recovering alcoholic, was struggling to cope with the loss, as the baby was 'very much wanted.'
The American actress confirmed that her 40-year-old husband was safe with his bodyguard after being stopped by security at Dublin Airport for being too intoxicated to board a flight to Vancouver, Canada on Friday.
Mara announced the couple's sad news to her 16.6k followers on Instagram beside a drawing of a young girl stroking a lion.
She wrote beside the image: 'With much sadness, we open our hearts to share that J and I lost our second child, who was baking in the oven.'
The mum of one, who welcomed the couple's first child Wolf back in December 2016, went on to admit her husband was struggling with the loss - but fiercely praised his strength through his lengthy battle with alcoholism and depression (opens in new tab), confirming that he had relapsed.
She continued: 'Child was very very much wanted (right now especially by J, so he took the news particularly not so well) and we are still working with coping skills over here... when life throws us curve balls such as these.
Revealing her love and devotion to the star, she added: 'I do not know anyone who has been through what he has been through and reached his level of successes.'
'It does seem though that every time we seem to be making so much progress... sometimes it's like two steps forward, one step back.'
'To some,' she added, 'my husband is an Irishman who battles alcoholism and depression and drank between jobs to try to cope with the sadness of this news.'
Confessing the battle does not come without its difficulties, she went on to thank followers for their support - and for understanding his struggles as a serious mental health condition, without judgement.
'He is safe and with his sober living companion and bodyguard to get into a detox closer to home since he was denied hospital help twice in Ireland because of an already two month wait period.'
'Life is life. Life is beautiful. Life is tough sometimes though so let's try not looking down at someone unless we intend on helping them up.
In May of this year Mara shared this adorable family snap praising Jonathan as 'the best father'.
The caption read: 'J is thee best Father btw. Ridiculously loving, super protective, patient and attentive. Wolf is basically snuggled, kissed, adored, sang to and entertained any free minute he has by his Papa. #LuckyMom #BlessedWife 💕