Julia Stiles confirms she's expecting her first child with fiancé Preston J. Cook
The 10 Things I Hate About You showed off her baby bump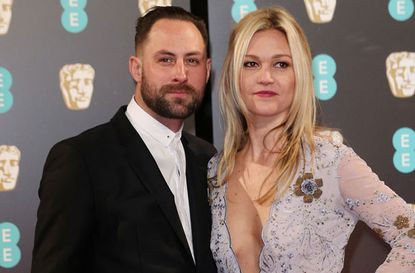 Actress Julia Stiles has confirmed the happy news that she's expecting her first child with fiancé Preston J. Cook.
Congratulations are in order for the 10 Things I Hate About You star, who will welcome her bundle of joy later this year.
A rep has confirmed the lovely baby news to PEOPLE magazine, but Julia's baby bump was also visible was she was out and about in London promoting her new TV series Riviera.
Julia's bump was visible while she was visiting presenter Nick Snaith at Magic FM
Julia and partner Preston got engaged over the holiday season in 2015, after meeting on the set of Go With Me, where Preston was working as a camera assistant.
Preston popped the question while they were on holiday in Isla Grande, Colombia, and Julia announced the happy news on Instagram, with a picture of her beautiful ring and the caption: 'Best Christmas ever!'
Before he popped the question, Preston tried to sneakily get Julia's help in picking her ring, she revealed while she was a guest on the show Live! With Kelly last July.
'We had had a conversation waiting for an elevator one day, where he was randomly like, out of nowhere, "With jewellery, you don't really wear silver or platinum. You're more into gold". And then I went, "What is up with this conversation?", she said.
The pair got engaged in 2015
A few months after she began dating Preston, Julia also opened up to The Guardian about their relationship. Replying to the question of 'what was your best kiss ever?', she said: 'It might have happened this morning. I am dating a camera assistant I met at work called Preston.'
Even though the two have been engaged for over a year, they seem to be in no rush to walk down the aisle.
Julie with fiancé Preston
In an interview with PEOPLE magazine last summer, she said: 'I'm not getting a ton of marital advice. We're really slow on the wedding planning, so I haven't really been soliciting advice.
'Somebody told me about radical empathy, but I'm still trying to figure out what that means. I'm trying to figure out what makes it radical', she said.
Congratulations to the lovely couple!