We earn a commission for products purchased through some links in this article.
Kate Middleton stepped out on a solo engagement on Tuesday to celebrate the work of UK foster carers at the 2015 Fostering Excellence Awards.
The Duchess attended the event, which was held at the British Medical Association House in London, wearing a stunning blue dress by Indian designer Saloni, with her hair in a half-up half-down style accented by loose ringlets.
Kate chose a knee-length royal blue dress for the occasion, accessorised with a Mulberry clutch bag and gold earrings
During the evening, she took part in a special tea party organised for the attendees and their carers, going from table to table to meet the winners of the awards and congratulate them personally.
One foster mother commented: 'It was lovely to meet the Duchess, she was so personable and took an interest in each of the children – it was very heart-warming.'
Kate, 33, was also presented with handmade blankets for her own children, Prince George and Princess Charlotte, by fostered children Rowan, seven, and Ambrose, 11. Having met them previously at a Fostering Network tea party in January, she remembered the pair and remarked to Rowan, 'You've grown since I last saw you!'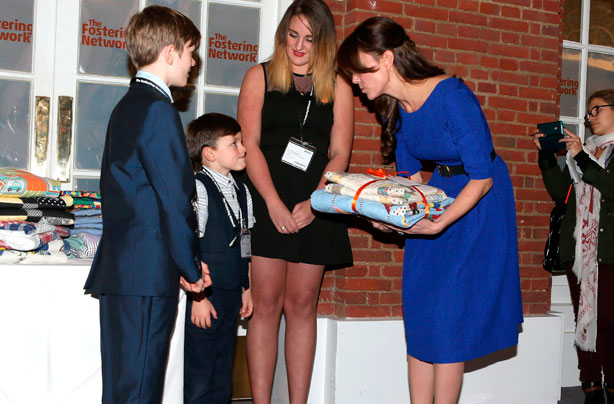 Kate received handmade blankets for George and Charlotte
More than 64,000 children currently live with foster families in the UK. The Fostering Excellence Awards are designed to honour both the children that are in the system, and those that care for them, and celebrate their outstanding achievements.
Kate presented three awards to teenagers at this year's ceremony, which was hosted by TV presenter Holly Willoughby.
Kate and Holly celebrate this year's achievements in the fostering community
She told the audience: 'I would just like to say how delighted I am to be with you all.'
'It's wonderful to meet so many remarkable and impressive people involved in the incredibly important world of fostering.'