Emmerdale's Kelvin Fletcher and wife Eliza Marsland are expecting their first child
Where did that bump come from?!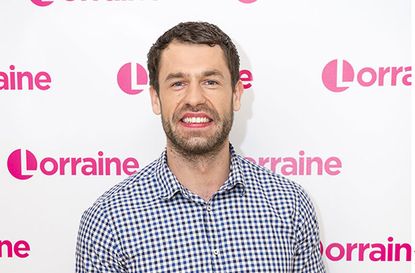 Emmerdale's Kelvin Fletcher and wife Eliza Marsland are all set to become first-time parents very soon!
The celeb couple have been making preparations to welcome their new addition to the family, holding a baby shower and sharing lots of new snaps of Eliza's growing bump with her fans.
Actress Eliza, who made her TV debut this May playing Liz Steele in the BBC series In the Club, which centres around the stories of six pregnant mothers, will soon join the real-life club of new mothers with the arrival of the newborn. She and Kelvin married in November last year, and their pregnancy followed just a few months later.
Although there was no official pregnancy announcement from the couple, Eliza has been using social media to share some gorgeous pregnancy pictures throughout the nine months.
Just two weeks ago, she posted a photo of herself and Kelvin showing her baby bump at the Chester races. On Instagram she said: 'Great day at Chester Races, even got a win in treating the bump to some vip action'.
In 2022 the couple shared with fans on Instagram that they had bought a farm together, with many fans asking where is Kelvin Fletcher's farm? (opens in new tab)
The new baby will be the first child together for Eliza and Kelvin, and the pair have been sharing their excitement about their family of two becoming a family of three.
In another Instagram post showing the beautiful couple all dressed up, Eliza said: 'Trying my hardest to work the pregnancy pose and @kelvin_fletcher just kills the picture. #soontobe3ofus'.
Good friend and Coronation Street actress Michelle Keegan couldn't make Eliza's baby shower, which was held last weekend, but took to social media to share her congratulations.
In a sweet message, Michelle said: 'Hope @littlepintsize is having an amazing day at her baby shower. Wish I was there with you and the girls! xxx'
Dad-to-be Kelvin is best known for his role as on-screen dad Andy Sugden in the ITV soap, but we bet he can't wait to see how he feels when it happens for real!
Speaking to HELLO! magazine about his wedding last year, Kelvin said that his marriage to Eliza made him feel 'complete'.
He said: 'I knew I wanted to marry Liz the day I met her. Deep down I knew she was The One'.
The couple tied the knot at a beautiful ceremony at London's One Mayfair, exactly a year to the day he proposed. 'The image of Liz coming towards me up the aisle will live with me forever. She took my breath away. She looked so beautiful.'
Charlotte Whistlecroft is a former Family writer at GoodTo. She obtained a BA in Theology and Theological Studies at Durham University, going on to study a masters at City University London in 2016. Since leaving GoodTo she has worked as a Social Video Researcher at Mail Online and is now Assistant Producer at BBC Sport.