'Disgusting!' Kim Kardashian slammed by fans for posting nude picture days after welcoming third child
The mum welcomed her third child earlier this week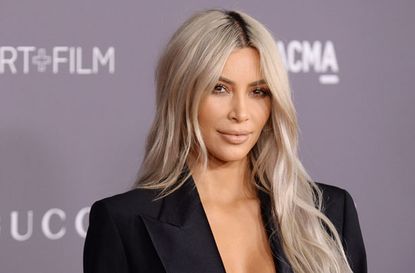 Kim Kardashian has been criticised by fans on social media after posting a nude picture of herself, days after welcoming her third child.
The mum-of-three took to Instagram to share the revealing picture, where she's seen posing naked on a bed, with a sheet covering parts of her body and her nipples censored.
It's not the first time the mum has showed her body on social media, but her latest snap didn't go down well with fans, who heavily criticised her for posting it.
One wrote: 'Keep in mind that you're already a mother and AN ADULT. Show a little class 👎🏼'
A second said: I like you a lot but don't you think this is too much ? You're a mother of 3', while another added 'You've just welcomed a baby into the world, sorry but this is in bad taste'.
A fourth also commented: 'Hahaha omg sometimes I feel like really its something wrong with u. U are a 3 kids mom act like one. Disgusting!'
But while most were slamming the star for her latest social media post, some took to the comments section to defend her.
'Damn that's goals💯💯now mom or not she's a woman who has all the rights to do what she wants ...if her husband is ok with it who th r u to judge the Kardashians???!!!', one said.
Another added: 'it's @kimkardashian are people just mad that unlike everyone who is hating she can do this and u can't? She's a mom but she's also a woman, a sister and a daughter among other things but at the end of the day she is herself, let her be happy'.
Kim and her husband, rapper Kanye West, welcomed their third child earlier this week, via surrogate.
The pair are already parents to four-year-old North, and two-year-old Saint.
Speaking about welcoming her third baby, Kim revealed that she felt an instant connection with her baby girl, despite not having carried her.
'The connection with our baby came instantly and it's as if she was with us the whole time', she wrote in her blog. 'Having a gestational carrier was so special for us and she made our dreams of expanding our family come true. We are so excited to finally welcome home our baby girl.'