Good Morning Britain's Laura Tobin reveals her premature baby girl 'was on oxygen for a really long time'
The weather girl opened up about her daughter Charlotte's early birth during her first TV interview as a new mum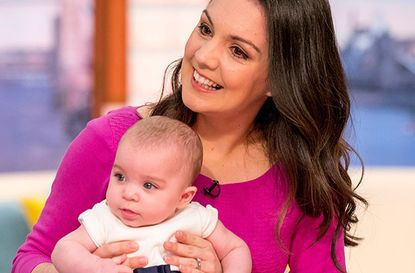 Laura Tobin has spoken live on TV for the first time about her experience of giving birth to her baby daughter prematurely.
The weather presenter welcomed a little girl named Charlotte into the world much earlier than expected last September.
'She was on oxygen for a really long time. But the bigger she gets the stronger she gets,' Laura said while introducing the baby to her colleagues at Good Morning Britain.
'We are finally home as a family - she was in hospital for quite a while, and she gave me quite a fright when she arrived very early. We just didn't know what to expect.'
Laura went on to reveal that her first child weighed a tiny two and a half pounds when she arrived.
'Now she's just over 14 lbs,' she said, obviously pleased by Charlotte's progress.
During her chat with Susanna Reid, Kate Garraway and Charlotte Hawkins, Laura also opened up about the day she went into labour.
Laura Tobin works as a weather presenter on Good Morning Britain
The 36-year-old decided to seek medical attention after feeling poorly during her shift at the ITV studios.
'I came into work and thought I don't feel very well, a bit achy, a bit tired, a little bit hot,' continued Laura.
'I got to the hospital and the doctor said the baby wants to come today. It was a huge shock, we had nothing ready.'
Despite finding being a mother tough, Laura and her husband Dean appear to have established a winning formula for getting their baby to sleep during the evenings.
'I mean, no one tells you how hard it is being a parent. But do you know what, we're so lucky, she sleeps basically through the night,' she added.
'She doesn't like sleeping in the day - but that's ok, we'll take the night-time sleeping!'
Laura met Dean while studying at university. The couple have been married since 2010.