A hidden danger? We investigate why some schools are banning loom bands
Concerns have been raised about the safety of loom bands after a boy lost the circulation in his fingers, with many schools now banning the bands. Do you think they're a menace or harmless fun?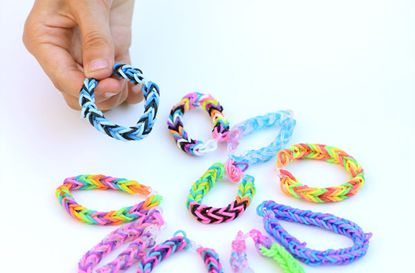 We don't know about you but we've got loom bands coming out of our ears. They're littering our living room floor, being woven around our wrists unawares, we've even had a few fired at us, catapult style.
Apart from the fact that they have become somewhat of a nuisance - mainly due to the sheer volume of the things - we thought they were relatively harmless fun. In fact, they remind us of the sort of toy craze more familiar to our own childhoods (remember Cat's Cradles, and yoyos?) in their simplicity than the techy, ludicrously expensive gadgets which most kids are chewing our ears off for these days.
Are loom bands safe?
They might even be a good thing, really. They're inexpensive, simple, encourage creativity and kids can share and swap them at school, they can even make them as gifts for their friends and family. They certainly beat having your kids staring at a screen all day inside.
Kate Middleton was spotted wearing a Loom Band during her time in New Zealand
However, looms are receiving some negative press, after a little boy was found to have fallen asleep with two of the tiny bands over his fingers. The circulation had been restricted long enough for his fingers to have turned blue. Thankfully, the boy's mother went in to check on him not too long after and managed to get the bands off in time.
Staffordshire GP, Dr Anne-Marie Houlder has spoken out about the potenital harm the bands can cause, she said:
'They could be a choking hazard or cause circulatory problems if children swallow or wrap them round their fingers for any length of time. Parents need to be aware of the potential dangers if children are left unattended.'
Loom bands have really taken off in recent months, especially after several celebrities, like David Beckham, here pictured at Wimbledon 2014, have been seen wearing the bracelets.
And now lots of schools are banning the bands. As with any craze, they have been reported to cause playground fall-outs, mainly due to kids copying each other's designs - god forbid - and some naughty individuals have used the bands as catapults in lessons.
For example, Willand School and Clyst St Mary Primary School in Devon have banned the hobby during school hours. Children who arrive at school with the loom-making equipment or wearing the bands are asked to leave them in their bags until school's over.
What do you think to the craze? Loom it or hate it (sorry)? And do you think it's right that schools are banning them? Let us know in a comment below.
Where to next?
WIN! 4 x tickets to Jamie Oliver's The Big Feastival
Retro outdoor kids' games
Gemma Chandler is a lifestyle writer specialising in kids' educational media across a range of topics including nature, history, science and geography across digital, print, social media and video channels. She joined Creature & Co. at 2015, shortly becoming Digital Editor of National Geographic Kids magazine.