Love Island merchandise: Primark launches GENIUS range of slogan T-shirts (and they only cost £6!)
'100% my type on paper'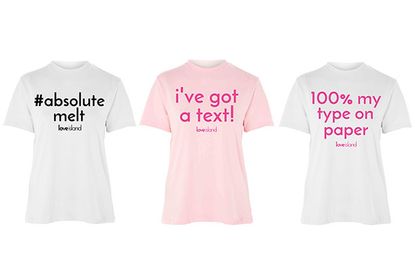 Love Island fans, get your purses out immediately, because you need one of these in your life.
High-street heroes Primark have created a range of slogan t-shirts that encapsulate some of the BEST catchphrases from our fave ITV show, and we reckon they're an essential wardrobe addition for all true devotees of the ongoing drama in the villa.
Whether you're a Camilla convert or mad for Marcel, with captions including 'I used to be in Blazin Squad', '100% my type of paper', and, of course, the iconic '#absolutemelt', there's six different tees for all occasions. They even come complete with a Love Island logo beneath the text, so everyone will know that your love for the Island knows no bounds.
Best of all, they're an absolute steal, with a price tag of just £6.
Primark (sadly) don't sell their products online, so you'll have to pop into a store if you want to bag one for yourself.
However, you'll need to move quickly if you want to get your hands on one - Primark bargains tend to fly off the shelves pretty fast, and something tells us these might be more popular than most...
In fact, Love Islanders have already been tweeting their delight over the release of the designs, with one writing: 'I will buy a Love Island t-shirt. I will spend all day choosing which one I want (all of them). And I will wear it in public. #loveisland'
'When @marcel_rockyb leaves #LoveIsland and realises the nation is strutting about in 'I used to be in blazing squad' T-shirt's 😂😂 EPIC lol,' another quipped, followed by a third who added: 'Going to get my muggy t shirt from primark tomorrow 😩 #loveisland'.
'So funny that Primark are selling Love Island t-shirts,' said another. 'Next time I go clubbing I'm deffo gonna wear a t- shirt saying "grafting" hahaha'