Matt Willis reveals why wife Emma was 'devastated' after their wedding
Emma was devastated for a very sweet reason...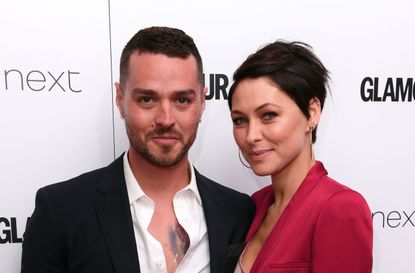 Matt and Emma Willis recently renewed their wedding vows after ten years of marriage. In an interview with Lorraine he reveals why Emma's devastation led to the celebration...
Singer Matt Willis and TV presenter Emma got married at Rushton Hall, in Northamptonshire back in 2008 and they returned to the venue for their renewals.
Speaking with chat show host Lorraine Kelly, Matt revealed that Emma was devastated in the morning after their big day but for a very sweet reason.
He explained: 'The day after we got married, Emma said to me, she was devastated that the wedding was over because she had planned it for such a long time. She was really upset and she said, "We are coming back here in ten years and we are doing it all again!".'
Each year Emma would count down the years to her next big opportunity to wear a wedding dress but Matt initially thought she was joking.
When the tenth year came, he said Emma 'was like "party time!" and I was like, "Oh we are going this?".'
Speaking about the day, with was attended by lots of close celebrity pals, including a very pregnant Giovanna Fletcher and fellow mum Rochelle Humes, Matt said the whole day was a blast.
He told Lorraine: 'It was really fun. Stephen Mulhern did the ceremony. It felt like a roasting. I stood there and had the mickey taken out of me for 20 minutes. It was an amazing day. We just wanted to make it the most fun day possible. [The children] loved it. That's what was so special about it. Ace was my best man. It was a really special moment.'
Matt and Emma have three children together, eight-year-old Isabelle, six-year-old Ace and two-year-old Trixie.
How did you feel the day after your wedding? Would you renew your vows with a big ceremony to mark ten years of marriage or perhaps you celebrated a different way? Let us know your thoughts and experiences by heading over to our Facebook page to join the conversation!
Jessica currently works as a Senior Food Writer at Future. She writes food and drink-related news stories and features, curates product pages, tests, and reviews equipment, and also develops recipes that she styles on food shoots. An enthusiastic, self-taught cook Jess adores eating out and sharing great food and drink with friends and family. She has completed the Level 1 Associate course at the Academy of Cheese and is continually building on her knowledge of beers, wines, and spirits.