We earn a commission for products purchased through some links in this article.
Meghan Markle took a leaf out of Kate Middleton's book this week during an official engagement, when acting instinctively she broke a royal rule when interacting with a member of the public.
It is not custom for royals to hug members of the public – however Meghan Markle broke protocol after she shared an 'emotional' embrace with a charity worker.
The 36-year-old joined her husband-to-be, Prince Harry, in Edinburgh on Tuesday for their first official visit to Scotland where they stopped in on the Social Bite centre, a Scottish charity for the homeless.
While there, Meghan is said to have become emotional during a conversation about women's rights with the charity's co-founder Alice Thompson.
Alice is said to have told Meghan that she had been 'deeply inspired' by her speech on female empowerment at the UN Women conference in 2015 – which led Meghan to instinctively reach out and embrace the charity worker.
Journalist Omid Scobie, who had been at the scene tweeted: 'Meghan shared a special moment with @SocialBite_ co-founder @AliceThommo, who admitted she had been deeply inspired by her 2015 @UN_Women speech. Clearly touched (and a little emotional), Meghan embraced her in a hug.'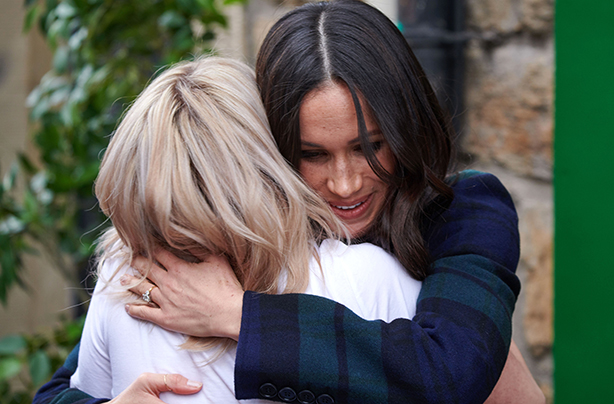 Brian Anderson/REX/Shutterstock
Local university student, Phoebe Libbish later tweeted a picture of the pair commenting 'Love this photo' to which Alice responded 'safe to say I love it too'.
Meghan's display of affection towards a member of the public follows in Kate Middleton's footsteps after the Duchess of Cambridge broke royal protocol back in 2016.
Attending the Place2Be Awards – a children's mental health charity, which Kate is a patron of – the Duchess reached out and gave a hug to a fellow mum after being overcome with emotion after seeing her autistic son, Ethan, speak at the event.
Ceri Knapton, Ethan's mother, later said: 'I vowed that I wouldn't cry but was just overcome listening to Ethan. The Duchess just leant over and said to me 'I've got to give you a hug as a mum.' I couldn't believe it. It was such a kind gesture.'