Who will walk Meghan Markle down the aisle following rumours her dad may not attend the royal wedding?
Her dad is reportedly no longer attending the ceremony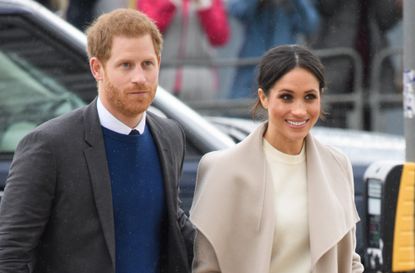 With just days to go before Meghan Markle marries Prince Harry, it's been reported that the father of the bride, Thomas Markle, will not be attending the royal celebration.
According to reports, Thomas needs to undergo heart surgery and will therefore be unable to fly to the UK for the wedding on Saturday.
If the reports are true, the father-of-the bride will not be able to walk his daughter down the aisle.
Thomas reportedly suffered a heart attack which he says was triggered by his son's open letter to Prince Harry, urging him to call of the wedding.
Thomas has also been under the spotlight after The Mail On Sunday revealed that he had staged paparazzi pictures in return for money.
It is now thought that Meghan's mother, 73-year-old Doria Ragland, has been given Thomas' blessing to walk their daughter down the aisle at St George's Chapel, Windsor Castle. He told reportedly suggested to reporters that Doria would be a 'good choice' to replace him.
Doria, who is preparing to fly to the UK, already holds an 'important role' on the big day. She is accompanying her daughter in the car on the way to the service, a role traditionally held by the bride's father.
However, now it seems she could take her role a step further and actually be the one to walk Meghan down the aisle – and while not traditional, it wouldn't be the first time a bride has been given away by a woman at a royal wedding.
Queen Victoria gave away her youngest child Princess Beatrice at St Mildred's Church, Whippingham on the Isle of Wight in 1885.
Royal historian Victoria Howard told the BBC: 'I think it would be a lovely touch for Meghan's mother Doria to walk her down the aisle.
'It would be unusual but it wouldn't be an unprecedented move. Queen Victoria walked two of her daughters down the aisle'.
However, should Meghan's mother decide against giving her daughter away, bookies have taken bets on Prince Charles to be the next favourite to walk Meghan down the aisle, followed by Prince William.
While Charles is her future father-in-law, William has spent more time with Meghan and may be better suited for the role, adding to his job as Harry's best man.
Some reports even suggest that Meghan could in fact walk down the aisle solo, although should dad Thomas stick to his decision to not attend the wedding, mum Doria appears to be the most likely replacement.
Meghan and Harry issued an unprecedented official statement through Kensington Palace in the wake of the faked photographs row earlier this week.
A spokesman said: 'This is a deeply personal moment for Ms Markle in the days before her wedding. She and Prince Harry ask again for understanding and respect to be extended to Mr Markle in this difficult situation.'
A Freelance Writer and Content Editor, Jenni has been working on the women's lifestyle team at TI-Media on and off for over three years. She writes about your favourite celebrities and TV shows so you never miss an update. Jenni also writes beauty news and features - so for all of your skincare and make-up needs, drop her a line.