Michael Bublé and his wife wished they 'didn't wake up' after son's cancer diagnosis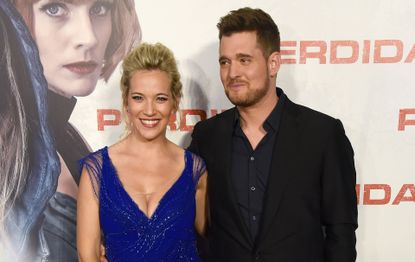 (Image credit: Getty Images)
Michael Bublé and his wife have opened up about how they felt after their eldest son, Noah, was diagnosed with liver cancer hepatoblastoma in 2016.
During an interview with Australia's Today Show, the Canadian singer said there were times when they 'wished we didn't wake up'.
Michael described the diagnosis as 'the worst possible thing you could hear as a parent and as, maybe, a human being'.
'I much rather it would've been me,' said Michael, 'many times I wished that it would have been.
'There were a million times that my wife and I were just surviving, struggling to survive and to breathe and, more times than people could understand, some days when we wished we didn't wake up.
'[But] when we did we felt the love of those people we knew they were praying for us. We knew there was goodness out there. It gave us faith in humanity to be really blunt.'
Since enduring months of cancer treatment, Michael and his wife, Argentinian actress Luisana Lopilato, revealed that Noah's condition was improving and that he was doing well after his treatment had been successful (opens in new tab).
Michael, who cancelled all of his scheduled gigs and performances after he found out about his son's condition but recently made a comeback, revealed to the Herald Sun back in July that he thought he would never return to his career.
'I truly thought I'd never come back to music,' said Michael. 'Family is what matters. The health of my children is No.1.'
'I don't talk about the whole story, not even to my friends because it hurts too much. It's my boy. He's a superhero, he doesn't need to relive it over and again. But I've been to hell. And you know what, hell seems like a really nice place to vacation compared to where we've been.'
Follow Noah's successful treatment, Michael and Luisana were thrilled to add to their family this year.
In July, the couple revealed that they had welcomed their third child, a daughter named Vida. Noah also has a younger brother Elias, 2.
We wish the family a happy and healthy life together going forwards!
Aleesha Badkar is a lifestyle writer who specialises in health, beauty - and the royals. After completing her MA in Magazine Journalism at the City, the University of London in 2017, she interned at Women's Health, Stylist, and Harper's Bazaar, creating features and news pieces on health, beauty, and fitness, wellbeing, and food. She loves to practice what she preaches in her everyday life with copious amounts of herbal tea, Pilates, and hyaluronic acid.