Central heating avoidance: 20 ways to stay warm at home
With energy bills soaring and winter definitely here to stay for a while, homes are feeling chilly. If you're on central heating avoidance, try our 20 tips to keep warm at home.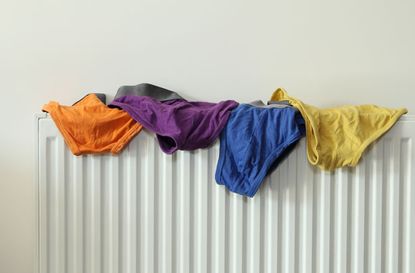 (Image credit: Rex Features)
With energy bills soaring and winter definitely here to stay for a while, homes are feeling chilly. If you're on central heating avoidance, try our 20 tips to keep warm at home.
With energy bills soaring and winter definitely here to stay for a while, homes are feeling chilly. So how can you keep your house warm without breaking the bank to pay for the central heating?
If you feel like you're constantly turning down the dial and telling everyone to put on an extra jumper, it can be tempting just to crank the heating up to the max just to end the daily arguments and cries of 'I'm so cold!'. However, if you think outside of the box, you'll find there are actually plenty of little tweaks you can make to keep warm at home and save yourself some money. Turning your thermostat down just one degree can save you up to £60 per year!
From covering up cold wooden floorboards to leaving the oven door open after you've cooked your Sunday roast (opens in new tab), the smallest adjustments can make a big difference to your chilly hands and frozen feet. Whether you live as a family, a couple or by yourself, you'll find that these simple changes will keep the cost of warming up your property much lower than expected - and if you complete all of them simultaneously, you may find that you're able to turn the heating off altogether.
Of course, eating warm is the first step to keeping warm, so be sure to check out our recipes for delicious, healthy soups (opens in new tab). Not only will you feel full of heat after eating them, cooking them will give your kitchen a blast of toastiness too. (opens in new tab)
However, if the cold is really getting to you and you have no choice but to turn up the heating, remember to set a timer to turn it back down again - often, all you need is an hour or two to make a real difference to the temperature throughout the day.
And once you've turned it off again? Our 20 easy ways to keep warm at home will see you through the rest of the season...
Put tin foil behind the radiator
It sounds bizarre, but bear with us, we promise there's some science behind this idea.
A fresh sheet of foil (we're not talking about the leftover tin foil from your Sunday roast, unless you want the whole room to smell of potatoes... ) behind your radiator will reflect heat back into the space, leaving it noticeably warmer whilst costing you pennies.
Try it, and you can thank us later...
Click through to see more heat saving tips...
Close the curtains
Heat escapes through your windows, so closing the curtains will help to keep it in! But when you do decide to put the heating on, make sure none of your radiators are covered by curtains, as that'll trap their heat. If necessary, tuck your curtains behind the radiators.
Let the sun shine!
Ok, so we know we just told you to keep your curtains closed to keep your homes warm... but if it's sunny then you should open them. Use the natural heat of the sun to warm up the room, then lock it in by shutting the curtains again when evening falls.
Put the kettle on
The key to feeling toasty in a chilly house is heating your body from the inside out - a tea, coffee or hot chocolate will keep you cosy and you can warm your fingers up holding the mug.
Put a rug on bare floors
Bare floor boards will stay cold and make your feet cold as you walk over them, so cover yours up with a rug. IKEA have some inexpensive options that will look great and last for years.
Put a hat on
Heat rises, so lots of your body heat escapes out of your head. It might feel a bit strange to wear a hat indoors, but once you feel the warmth it generates, you won't care how silly you look!
Block out draughts
If you've got a draughty room, put rolled up towels on the floor along the bottom of the door to keep the cold out. If you've got a very draughty front or back door, consider hanging a curtain in front of it too - it'll make a big difference.
Eat soup
In the same way that a cup of tea will warm you up, now's the time to ditch the sarnies and salads for lunch - make up a batch of delicious soup today using one of our recipes. Having the hob on will help heat the kitchen and then sit back with your slippers on, and enjoy it for lunch throughout the week.
Have a hottie
Pick up a few cheap hot water bottles and treat the family to one each before bed - it might even encourage the kids to get in bed sooner when they've got something toasty warm to snuggle up to. And when it's really cold, put your hot water bottle in bed an hour before you're going up for that electric blanket feel!
Layer up
We've all been told to 'put a jumper on' when moaning that we're cold, but layering thin clothes on top of each other actually does a better job than one chunky knit. If you can afford it, technical fabrics like HeatTech from Uniqlo work brilliantly as a base layer as they're proven to trap the heat inside your body.
Spread the warmth
After you've cooked your evening meal, leave the oven door open (with the oven off) to use the energy you've already paid for to heat your kitchen.
Cuddle up
The best way to heat your body is with someone else's! Before you stick the heating on, try snuggling up to your partner on the sofa or reeling the kids in for a good old snuggle. You'll feel instantly warmer in no time!
Get tidying
What's one of the best ways to work up a sweat indoors? No, not that (though it's not the worst idea...), we're talking about housework! Hoovering, scrubbing the surfaces and dusting all will help raise your body temperature. Perhaps you could suggest it to the other half next time they're chilly?
Set a timer!
If you do put the heating on then setting a timer is important because it will help you control how expensive your energy bills are. Having the heating on a lower heat for a longer time often costs less than sudden bursts, so if it's cold then you should set the heating to come on earlier, rather than turning up the thermostat to warm up the house rapidly.
Toasty tootsies
It's proven that women feel the cold more in their feet and hands so putting on a pair of socks can instantly make you feel warmer at home. These new 'Heat Holders' from SockShop have a 2.3 tog rating which is loads warmer than your average thermal sock. At £7, they're not cheap, but if it saves you from putting the heating on, they'll pay for themselves in no time.
Shut that door!
It's an obvious one, but with kids running around it's something that's easily forgotten. Drum into the family the importance of shutting doors in winter. Save on heating rooms you're not going to be using in the evenings by just getting the living room up to a habitable temperature and then shutting that heat in.
Go a little Oliver Twist
So wearing gloves in the house is hardly practical... but fingerless gloves on the other hand - now there's a thought! You're still able to do all the things you need to (like boiling the kettle, flicking telly channel, making the kids' packed lunches), but you're keeping in the heat in one of the places us girls feel it most.
Them bleeding heaters
All this is well and good, but when you start to see your breath inside the house, you KNOW it's time to give in and put the heating on. Just make sure you've bled the radiators before you do to get the most for your money.
Watch out for mini-draughts
Lots of cold air can come in to your home through your letterbox or cat flap. Consider putting an extra barrier, in the form of a 'brush' on your letterbox. Cat flaps can be filled with sheep's wool insulation or a piece of blanket to keep the cold from sneaking in with the kitty.
Trusted, informative, and empathetic – GoodTo is the ultimate online destination for mums. Established in 2007, our 15-year-strong archive of content includes more than 18,000 articles, 1,500 how-to videos, and 7,000 recipes.