Lidl announces huge wooden toy sale in time for Christmas
Lidl's wooden toys are fun, traditional, look beautiful in a home, and best of all, don't have nearly the same damaging impact on the environment as popular plastic toys do.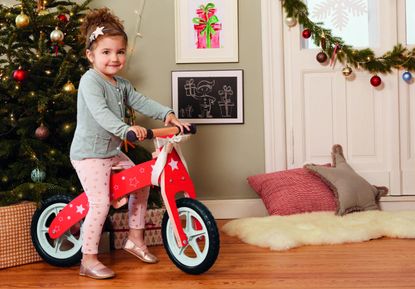 Goodto Newsletter
Parenting advice, hot topics, best buys and family finance tips delivered straight to your inbox.
Thank you for signing up to GoodTo. You will receive a verification email shortly.
There was a problem. Please refresh the page and try again.
Lidl's wooden toys are fun, traditional, look beautiful in a home, and best of all, don't have nearly the same damaging impact on the environment as popular plastic toys do.
A wooden toy is timeless, and won't ever date, meaning you can pass it down through generations and generations of your family. Plus, there's no limit to the amount of enjoyment a wooden toy can bring - even a simple wooden kitchen or a wooden playmobile can bring hours of fun to your little one's day.
So that's why we were thrilled when we heard that one of our favourite budget supermarkets, Lidl, are about to launch a huge wooden toy event, next week.
MORE: The top Christmas toys for 2019
From tomorrow (Thursday 24th October), parents can get a headstart on their Christmas shopping for their kids, by stocking up on a range of a whopping 29 different Lidl wooden toys products - from a food play set, to inspire the next Jamie Oliver, to a wooden 'emergency vehicle', for budding doctors and nurses.
The Lidl wooden toys are only available while stocks last, so if you want to pick them up and pop them under your Christmas tree, ready for the 25th, you'll need to be quick.
As with all of Lidl's limited edition items, we're expecting that the products will sell out fast - so don't hesitate! The range is available in store only, too, so you won't be able to log in online to purchase.
Which Lidl wooden toys can you buy in the new range?
Extra large wooden activity toy, £24.99
Your little ones will play for hours on this never-ending table of treats, including a xylophone, different wooden jungle animals, and the ever-popular looped play-thing that never fail to entertain. Pop this in your play-room for hours of fun.
XXL Train Station play set, £39.99
This enormous train set with three floors and outdoor slides has moveable parts and fun sound effects, making for a really engaging, interactive experience. It comes with three vehicles and multiple different play areas, so you're certainly getting a lot for your money.
Play kitchen, £49.99
Sitting at the slightly more expensive end of the scale is this pretty advanced play kitchen. Although it'll set you back almost £50, it's an impressive kitchen, sporting a very life-like hob, a sink, an oven, a microwave, and even an ice-machine! It comes with an apron too, and an extensive range of accessories so your child can unleash their creativity.
Food play set, £5.99
Another great option for all the young aspiring chefs out there, this wooden food play set comes in the form of both some more traditional foods - lettuce, an egg, cheese, etc., and a birthday cake - and it looks almost good enough to eat!
Your little ones can put together their age as they assemble the cake, and even 'pretend' to light the candles it comes with. It also includes a brilliant cake-knife too!
Ice princess or knights castle doll's house, £39.99
Delight the Frozen fans in your household with this stunning ice palace, which your kids can lose themselves for hours on end in, getting caught up in the adventures of Ana, Elsa and Olaf!
Doll family set, £5.99
Your kids will be able to make up hours of fun family stories with these adorable wooden family characters, including a mum, dad, grandad and grandma, and children.
Pull along dog, £6.99
If you're hesitant to get your child a real dog just yet, this adorable wooden version is great alternative! Your kids will be able to watch in delight as the head and tail bobs up and down - and the best part is, there's none of the mess you'd get with a real-life pup.
Emergency vehicles, £5.99
If your son or daughter is a budding firefighter, flame (get it) their enthusiasm with these brilliant fire engines and fire department cars. Coming complete with a fireman, they'll be putting out fires all over the house! There's also a police option, available for the same price of £5.99
20-piece fishing game, £3.99
Magnets will allow you to grab at the underwater creatures inside the wooden box, and the person with the most at the end of the game wins - hours of fun for the whole family!
28-piece Doll's House, £39.99
For a traditional gift that can be passed down through generations, this doll's house, featuring three floors and an open front, is a brilliant option. The wood used in the house is sustainably sourced, and kids will be amazed by the working ceiling lights, doorbell, included furniture, and the two figures that come with this item.
6-in-1 guitar, £11.99
For budding rockstars, this guitar comes with six different instruments, including the symbols and a xylophone, so your little'uns can make as much noise as they want!
Will you be picking up any of the Lidl wooden toys when they launch in stores next week? Let us know which ones your kids will love on our Facebook page!
Parenting advice, hot topics, best buys and family finance tips delivered straight to your inbox.
Amy is Senior Digital Writer across Woman & Home, GoodTo and Woman, writing about everything from celebrity news to health, fashion and beauty features. When she isn't obsessing over the latest dress drop from Marks & Spencer, you'll most likely find Amy out running, or with a cup of tea in hand ready to dive into a gripping new Netflix series.