Best wooden toys and puzzles in 2023: 16 of the top options for boys and girls
Ideal for the perfect hand-me-down, long-lasting and planet friendly, these are the best wooden toys and puzzles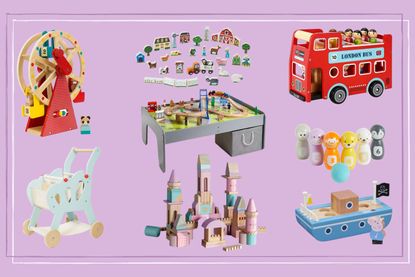 (Image credit: Future)
The best wooden toys and puzzles have soared in popularity over the last few years. And it comes as no surpise.
Wooden toys are up there with the best toys to buy in 2023, as not only do they look great, but they are built to last (and last).
Wooden toys come with a much-welcomed retro touch, and can be better than buying plastic toys. It's no secret plastic finds its way into landfills across the world. So many more of us are opting for much more eco-friendly options, like wooden toys and puzzles, as a clever and stylish alternative.
Often, the best wooden toys and puzzles are more traditional and timeless in their design, meaning they make for great hand-me-down gifts for future generations to come. Plus, many of kids' favourite TV characters also come in wooden form — whether it's Peppa Pig or Doug and Melissa. And, you'll be pleased to know that most top-rated wooden toy options also come with an educational element to them, which is always a win.
So no matter whether you're looking for a gift or just want to treat that special little person in your life, to help you find the perfect wooden match, we've trawled the internet and compiled a list of our faves below. With a range of prices, colours and options available, there really is something for everyone.
Discover the best wooden toys 2023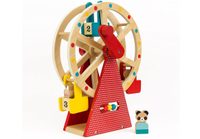 Petit CollageWooden Ferris Wheel - £56.95 | Not On The High Street
Age suitability: 3 years and up | Batteries required: No
This adorable playset would make a beautiful addition to any child's bedroom or playroom. The moving wheel comes pre-assembled and can be spun around by turning the handle. It also comes with three animal friends: Panda, Rabbit and Cat.
VIEW ON NOT ON THE HIGHT STREET
---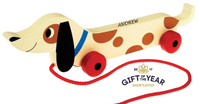 VIEW ON NOT ON THE HIGH STREET
---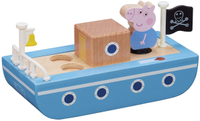 Peppa Pig Wooden Boat - £14.99 | Amazon
Age suitability: 2+ years | Batteries required: No
There are unlikely to be any homes with small children that are yet to be graced by Peppa and her oinking family. All aboard this push-along boat, George is ready to set sail! With his 'drop n play' feet, George fits into the boat, promoting hand-eye coordination for young children. Peppa's World of Wooden Toys are made with excellent quality, durable and sustainable wood.
---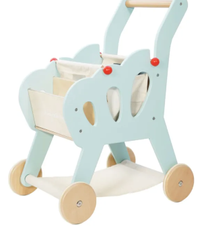 Shopping trolley - £65 | Hamleys
Age suitability: 2+ years | Batteries required: No
Made of great quality wood, this shopping trolley from Hamleys makes the perfect learning toy for the little ones. The brand also sells cash registers, shopping baskets, and several sets of supermarket items to fill up the cart. Whether your children already have a toy kitchen or doctor's set, they will love feeling grown-up, pushing their shopping trolley around and playing shop.
---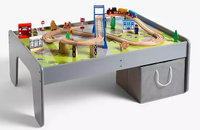 ---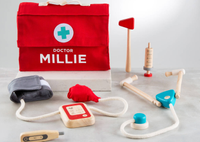 Personalised Wooden Doctors Set Toy - £56 | Not On The High Street
Age suitability: 3 years and up | Batteries required: No
Do you know a budding doctor or nurse? This five-piece medical kit is perfect for wannabe medics. Each bag includes a wooden blood pressure monitor, stethoscope, reflex hammer, syringe and thermometer all contained in a red doctor's bag. And, you can personalise with the child's name.
VIEW ON NOT ON THE HIGH STREET
---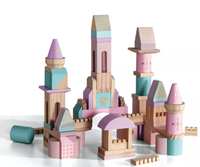 Wooden Castle Blocks Set - £20 | Marks & Spencer
Age suitability: 4+ years
Children can create a magical setting with this castle-building set, designed for the greatest of princes and princesses. With 75 pieces to assemble including towers, bridges and arches, children can put their building skills to the test. Fingers crossed that no dragons are lurking nearby to blow those turrets down.
---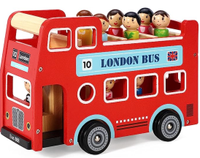 Cath Kidston Wooden London Bus - £34.99 | Amazon
Age suitability: 3+ years | Batteries required: None
London double-decker buses are British icons in their own right, and so make a lovely nostalgic addition to any toy box.
With 9 passengers, 1 bus driver, and a removable top deck and staircase, this bus can provide hours of fun. A sturdy set that can handle knocks and bumps that toddlers will throw at it, this bus will last for many years to come.
---