Blogger applies full face of make-up during labour in between contractions
We can't remember looking this glam on a normal day…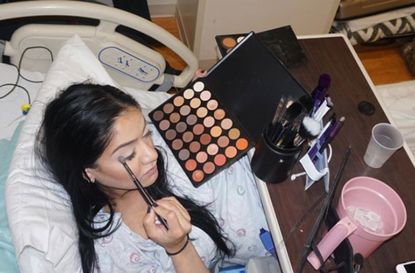 One mother has taken glam to a whole new level by applying a full face of make-up while giving birth.
Yep, you read that right. New York make-up artist and beauty blogger Alaha Majid managed to do what many of us fail to get done on a good day, all while she was giving birth to her newborn. There was a smoky eye, full lipstick and even fake lashes.
She shared her story with her 74,000 Instagram followers, explaining how she carefully managed her make-up in between contractions (as you do). On one post she described her very polished birth, writing: 'I was pausing during contractions and picking up where I left off once the contractions passed.'
It would seem that the swathes of make-up that look like they'd rival our lifetime supply were actually only a select few, compared to her regular routine, as she went on to say: 'I only packed some of my favorite products in my hospital bag'.
These few key items can be seen splayed out in front of her on a hospital bed table and include a palette of 35 eye shadows, fake lashes, contouring kits, liquid lipsticks and brushes a-plenty.
The application of make-up did have a slight sentimental edge to it. Alaha explains she chose mink eyelashes called Sophia as that was what they planned to call their newborn daughter.
And if you're worried that Alaha would be missing prime make-up applying time while she went through contractions, don't be. Her loyal husband was on hand to finish off her contouring for her. Now that's what you call love!
Just like any new mother Alaha couldn't help but gush about the love she felt for her baby. Following little Sophia's birth she wrote, 'She has only been a part of our lives for two days and I can't even remember what life was like before her.
'Both hubby and I are so in love with her that we stare at her for hours as our hearts fill with joy, and our eyes fill with tears trying to understand how we became so lucky to be chosen as her parents.'
Well, we can't quite remember a labour so glamorous but we do know all mums feel the same way about their little ones. Congratulations to Alaha and her family!
Rosie is an experienced food and drinks journalist who has spent over a decade writing about restaurants, cookery, and foodie products. Previously Content Editor at Goodto.com and Digital Food Editor on Woman&Home, Rosie is well used to covering everything from food news through to taste tests. Now, as well as heading up the team at SquareMeal - the UK's leading guide to restaurants and bars - she also runs a wedding floristry business in Scotland called Lavender and Rose.