Mum issues safety warning against washing tablets after son suffers eye burns and blindness
'Please make sure that your children NEVER TOUCH these!'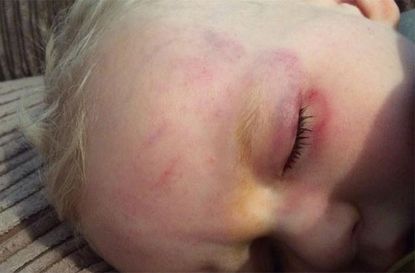 A mum has issued a safety warning after her son accidentally squirted a washing machine liquitab in his eye and was left with burns and blind for three days.
Jemima Strain, a mum from Dudley in the West Midlands, has warned other parents of the dangers in letting your little one help with the washing after her son was involved in a 'traumatising' incident.
The mum called for other mums and dads to 'Please make sure that your children NEVER TOUCH these!' when talking about washing machine liquitabs, in a Facebook post that has since gone viral.
https://www.facebook.com/photo.php?fbid=10153878426116952&set=pb.505161951.-2207520000.1492670008.&type=3&theater
Jemima explained how it's normal for her to let her child assist with household duties like washing, but this time when her son picked up a liquitab it 'popped' and squirted directly into his eye.
'I had no idea how awful the contents are. After washing them out as much as possible he was still clearly in a lot of discomfort and pain.'
After doing everything she could, Jemima and her husband began to seek further medical advice.
'My husband rang NHS direct who told us to get him to A&E immediately.'
'On arriving at A&E we spent over an hour and a half with a full team of nurses who had to hold him down and force his eyes open whilst trying to neutralise the liquid with a litre and a half of saline fluid to wash out his eyes.'
'He was traumatised as was I.'
But the trauma still wasn't over for Jemima's family, as doctors sent them to a specialist hospital to treat the burns in his eyes and they were told that horrifyingly this isn't the first case of a child's eye being burnt by washing liquid tablets.
]
'THE CONSULTANTS SAID THEY HAD WRITTEN TO THE MANUFACTURERS BEGGING THEM TO STOP MAKING THEM AS THEY CAUSED 40% OF ALL CHEMICAL EYE INJURIES LAST YEAR.'
'IF WE HAD NOT WASHED HIS EYES OUT MY SON WOULD HAVE SUFFERED FROM FURTHER BURNS TO HIS EYES AND CHILDREN HAVE HAD THEIR CORNEAS BURNED OFF.'
Jemima continued to ask parents to be careful when letting their children around these products, noting that even the packaging makes them look deceivingly fun for kids.
'It's an awful advertising gimmick making them look like fun squiggy pouches.'
'Please don't let your children help with the washing. These tablets are as bad a bleach and can be life threatening if swallowed.'
'We were fortunate... we acted fast and he was only blind for 3 days and with drops started to open his eyes and now has full site back.'