'Her body belonged with us' Mum reveals she kept three-year-old's body at home for 11 days after she died
'I know some will think what we did was shocking, but to us it made sense.'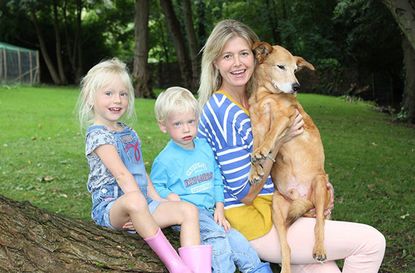 GoodTo newsletter
Sign up to the GoodTo Newsletter. You can unsubscribe at any time. For more information about how to do this, and how we hold your data, please see our privacy policy
Thank you for signing up to . You will receive a verification email shortly.
There was a problem. Please refresh the page and try again.
A mum-of-two has opened up about grieving for her three-year-old daughter who died on a family holiday, by keeping her body at home for 11 days after she passed away.
Ilse Fieldsend, a mum from Surrey, has spoken out about her decision to keep her toddler's dead body at home for nearly a fortnight after she had passed away so that she could say goodbye.
Three-year-old Georgia Fieldsend was on holiday three years ago with her parents and little brother when she collapsed on 30th December.
The little girl was in Sharm El Sheikh when she suffered from a brain aneurysm and had to be flown home to Surrey where she passed away five days later.
Ilse has now spoken to The Telegraph about her decision to keep her daughter's body at home.
'I know some will think what we did was shocking, but to us it made sense.
'Our daughter's body belonged with us, not in a morgue. Having her at home helped us grieve.'
https://www.facebook.com/photo.php?fbid=10153004099966062&set=pb.592641061.-2207520000.1494495818.&type=3&theater
Georgia's parents signed a transfer of care form meaning that they were able to bring their daughter home in a portable hospital bed, which they described as a 'a beautiful thing to be able to do'.
The Sun reports that Ilse and her husband James were told by funeral directors to keep the little girl's bedroom door shut and windows open to ensure conditions were suitable to keep her body.
Having the three-year-old at home with them meant the family could spend longer saying goodbye, giving two-year-old brother Joshua the chance to have 'morning cuddles' with his big sister.
Since her death, Georgia has helped numerous families by being an organ donor, donating to six people.
https://www.facebook.com/photo.php?fbid=10153869885716062&set=pb.592641061.-2207520000.1494495793.&type=3&theater
To mark her seventh birthday, Georgia's mum has asked other parents to help her fundraise for King's College Hospital Charity, for which she has already made £35,000.
Speaking to GetSurrey, she explained the thinking behind her fundraising efforts, 'Georgia would be turning seven and as a mother I was trying to find a way of telling her that I love her and involve others.'
'I was very upset thinking about the things that I wanted to do with my daughter that I could not do as I wanted to bake a cake with Georgia for her birthday.
'The idea came from the pain and longing for her and so I wanted to reach out to friends and family to do something positive in memory of Georgia.'