Mum sparks debate with furious rant at restaurant over son's nut allergy
An outraged mother-of-two has hit out at a restaurant in Manchester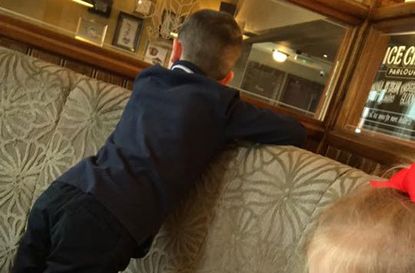 Mum Kimberley Horton has sparked major debate on social media after launching an angry rant at a restaurant for refusing to serve her son dessert after learning he had a nut allergy.
What particularly upset the mum-of-two during the experience, which took place at the Queens Arms in Manchester, was that her daughter had already been served her dessert, meaning her son, Jake – who reportedly only has a mild allergic reaction to nuts – had to sit and watch his sister eat her dessert while he was denied having any.
'Food was lovely but really upset to be told you wouldn't serve my child anything after knowing he had a nut allergy,' Kimberley began her post, which she shared on the restaurant's Facebook page.
'We eat out every week and I check packaging on desserts and things of high risk... you wouldn't let me check packaging and I was told if you knew my child had a nut allergy before we eaten carvery you wouldn't have served it...'
'I am aware there are nuts in the kitchen and in most kitchens but I think to point blank refuse to serve a customer based on their dietary requirements is discusting and his sister had already been given hers so he had to sit and watch her.'
'Surely it can't be policy to just refuse people with nut allergy?' she concluded.
https://www.facebook.com/photo.php?fbid=873434442820034&set=p.873434442820034&type=3&theater
Initially, other Facebook users rushed to support the mum, labelling the restaurant 'disgusting' and agreeing they wouldn't visit the establishment again.
However, after the waitress who served the family and the restaurant manager posted their responses to the rant, opinions were divided as to who was in the wrong.
'Ms Horton, that's very unfair,' wrote one staff member. 'You stayed for a good 20 minutes after we spoke whilst your daughter was eating her ice cream and you were writing your fb posts. Also, I dealt with the situation fairly and politely informing you that the risk was too great for me to take.'
The restaurant also posted their official response to the incident saying 'Serving your child this ice cream would have been a grave and undue risk which in all good conscience I was not willing to do. Should your son have had a severe or fatal reaction I would never have forgiven myself. I stand by and defend my decision to put the safety of your son first.'
Upon seeing these comments, others were quick to jump to the establishment's defence.
'well done for sticking to your safe practices and not risking the life of a patron,' wrote one Facebook user, while another added: 'it's called duty of care…you know how severe nut allergies can be and what would happen if this time he ended up in hospital. The business have every right to refuse service if they feel it necessary.'
Another post on the thread, from a parent of a son with severe nut allergies, also shared her full support for the restaurant's stand on the situation.
'Highly ANA son here and I stand by the manager with his decision! His duty of care as a publican is to keep his patrons and diners safe AT ALL times!'
The divisive Facebook post comes shortly after a recent This Morning segment on the life-threatening side effects of having this type of allergy.
Ruth Langsford and Eamonn Holmes shared the story of their former producer on the show, Amy Shead, who almost died and was left brain damaged after suffering a severe anaphylactic shock after being served a dish with peanuts in whilst abroad.
This Morning and Amy Shead's family are backing a campaign that is currently calling for a ban on all nut-based snacks on planes after a three-year-old boy recently suffered a severe allergic reaction on board a plane.
Trusted, informative, and empathetic – GoodTo is the ultimate online destination for mums. Established in 2007, our 15-year-strong archive of content includes more than 18,000 articles, 1,500 how-to videos, and 7,000 recipes.