Mum vlogger Anna Saccone quits YouTube after she's body-shamed following miscarriage
The Irish mum-of-two is known for her videos on make-up, fitness and her family life.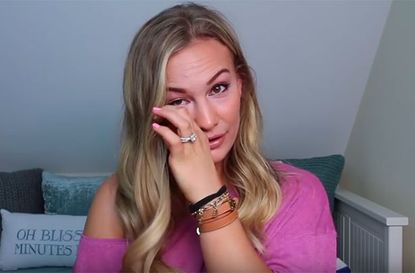 Mum vlogger Anna Saccone has quit YouTube and posted an emotional video to explain her decision, blaming cruel body-shaming comments she received after suffering a miscarriage.
Anna, a mum of two from Cork, Ireland, has over one million subscribers on her successful YouTube page, but has now revealed she's quit the video site because the cyber bullying has got too much.
Posting a video to her page, the 28 year old, who suffered a tragic miscarriage in May (opens in new tab) this year, reveals how cruel commenters have called her 'obese', bringing back painful memories of her battle with bulimia.
'Everything just got to me... all I got was hate comments', she says in the 28-minute long video.
Anna goes on to explain that because of her recent miscarriage and pre-existing eating disorder, her confidence was already at an all time low. 'I can handle a lot,' she explains.
'I choose to put my life out there... and I know that not everyone is going to like me. But when things aren't going well in your life, when something big and dramatic happens, [the criticisms and negativity] are just a hundred times worse.'
More: Coping with a miscarriage (opens in new tab)
Anna then explains how after her miscarriage, instead of being able to 'get back into the swing of things', she was instead faced with cruel and vicious comments: 'After the miscarriage I just wanted to get back into the swing of things... and not let it affect my life too much. I really wanted to not let it engulf me or take over.
'A month or two afterwards... my mental health was suffering because I felt like crap. I felt like s*** about myself.
'And what didn't help were the comments I was getting.'
http://www.youtube.com/watch?v=HMJI7FG6Sug
The mum added that she was even labelled 'obese', saying: 'All I got was hate comments... I got the worst body-shaming comments, fat-shaming comments comments that I was obese, and I know that it shouldn't matter, but it did.'
Her fans have been quick to offer their support to the mum of two - who has a three-year-old daughter, Amelia, and a two-year-old son, Eduardo, with husband Jonathan.
One wrote: 'I've been watching your youtube videos since a while and you're such an amazing person! I wish you all the best and remember that all these haters are not worth your time and especially when you're going through such a hard time right now.'