Blogger stars Anna and Jonathan Saccone-Joly announce tragic miscarriage in YouTube video
Heartbreaking video explaining the loss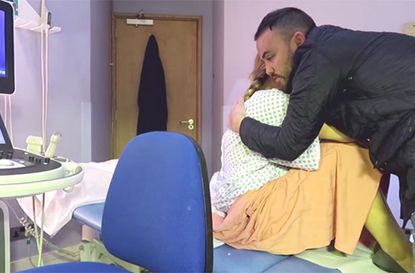 YouTube stars Anna and Jonathan Saccone-Joly have opened up about suffering a tragic miscarriage (opens in new tab) in a new vlog called 'everything happens for a reason'.
The parents-of-two, who have almost 1.5 million subscribers on the video platform, shared the heartbreaking news only several hours after finding out themselves.
The video starts with Jonathan explaining; 'Today was a sad day. Anna woke up with some bleeding, we called our consultant and he arranged a scan at the EPU (early pregnancy unit).'
The couple were informed by doctors at the East Surrey hospital that they had experience a miscarriage, after no heartbeat was detected and the amniotic sac was found to be empty.
Although the news has come as a shock for fans, Jonathan explained that the couple, who married in 2012, had been told at a scan a week ago to expect the worst.
More: What are the early signs and symptoms of a miscarriage? (opens in new tab)
Jonathan explained; 'I like to think everything happens for a reason, I've always lived by this and will continue, thank you all for you support, I tried to make this video as beautiful at the announcement video, and I plan on doing something later on this week to say goodbye.'
The video has sent shockwaves around the YouTube community and has received over 700,000 views in 16 hours.
http://www.youtube.com/watch?v=2LkCwRyxJ_Q
The Irish vlogging stars have made the decision not to tell their two toddlers, Amelia, three, and Eduardo, two, about the miscarriage, and instead hope to get pregnant again soon and tell the children it was a long pregnancy.
The 28-year-old mother of two had only made the announcement of her pregnancy two weeks ago.
Taking to her Instagram account Anna posted a photo of herself with Amelia, and Eduardo with the caption; 'Surprise #babysacconejoly'
Fans are now using the photo as a place to offer messages of support and condolence to the couple.