First Christmas without my son: 'I just couldn't have that day without Joe'
'How ridiculous is the thought of having Christmas without that person?'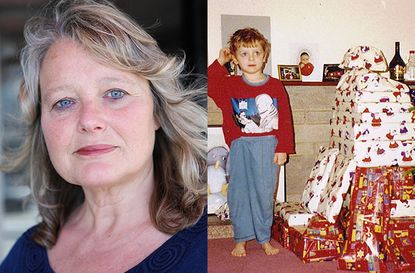 For most families, Christmas is the time of the year to spend some quality time with those you love the most, and enjoy the holidays with your children. But what is Christmas like when you've lost a child?
Sue Hughes had to deal with the unimaginable when her 11-year-old son Joe died suddenly of an asthma attack in August, 2008. Here, she tells us what that first Christmas without Joe felt like, how hard the holiday season can be for bereaved parents, and how the charity The Compassionate Friends can help bereaved parents at Christmas and all through the year.
Joe was the sun that we all revolved around.
Take him out and we just all fell down - he was such a central, pivotal person in our family. He had two younger brothers, but he was the oldest and he was sort of the centre of the family. He was the peacemaker; the hero of his younger brothers and the apple of our eye.
When it happened, it was such a massive, massive shock - you don't think you can live. And you certainly don't think you can have Christmas. How ridiculous is the thought of having Christmas without that person? It's horrific.
My other children were seven and eight at the time and until then we'd always had a very traditional day, a family celebration with the presents and the tree and the meal.
Joe, aged four at Christmas
But the year after he died, I just could not have that day without Joe. My initial reaction was to run away from it and so that's what we did - we went away to Sharm El Sheikh in Egypt to get away from everything. But that didn't work either - we were going on holiday without him, and it felt terrible.
As a bereaved parent you're torn between really not wanting to do Christmas, and still having to try. We had a sort-of abbreviated Christmas when we got home, where the boys got presents; they still believed in Father Christmas and I told them he would visit while we were away, then organised with friends to deliver the presents so they were there when we got home. They were excited, but it still wasn't the same.
Family and friends didn't know what to do. When you lose a child, everybody's very good for a few months and then most people get on with their lives - and at Christmas, everybody is having a lovely time and you don't want to ruin it for them. I wanted to be miserable. I wanted to be able to cry and think about Joe, but that didn't exactly fit in with everyone else's festivities.
'I'm not going to ruin their Christmases,' I told myself. 'I'm not going to sit at their Christmas dinner table and cry.'
A few years down the line, one of my sons asked me: 'Can we stay at home this Christmas and have a proper family Christmas?'
'Oh my god, how am I going to do this?' I thought - but I felt I owed it to them to have a family Christmas. They probably couldn't remember any of the ones we had before, after all.
It's been eight years now and we've only done a traditional Christmas twice since. I haven't enjoyed it at all, but I am able to get through it now. It's still a very difficult time - it's such a family day and a massive piece of our family is missing. Every other year, I've just gone away and done something else.
Joe with his two younger brothers, Jack and Ben
When we do have Christmas at home, I will always make Joe part of the day. We toast him at Christmas dinner and the children and I buy a new decoration for the tree for him. If I send a card, I'll always put his name in it and say 'thinking of Joe'.
I ask people not to send cards to us, but someone people do anyway. One year, I got a card to 'Sue, Kieran, Jack and Ben' with no mention of Joe, and it was so hurtful.
It might make you cry to hear their name, but it's really important that we do. I tell people: 'If you send me a card, and I don't really want you to send me a card, but if you do, I'd like to see Joe's name in it'. Just writing something like 'thinking about Joe' or 'remembering Joe' or something like that makes it much better, because he hasn't just been airbrushed out of our lives.
I think the big temptation at Christmas is for people to jolly you along and imagine that you might forget about it, but you're not going to, and someone wishing you a 'Merry Christmas' is completely inappropriate.
You're not going to have a Merry Christmas. I know it just rolls off the tongue but it's just a ridiculous thing to say to someone who just lost their son or daughter.
To other bereaved parents about to go through Christmas, I just say be selfish - especially mothers, who tend to look after everybody else. I used to look after everybody else and put myself at the bottom of the pile, but you have got to do what is best for you.
If I had done Christmas that first year, I would have done it really badly. Going away was the first time in my life I'd been selfish and looking back, it was probably the best thing for us to do at that time. Do not give in to relatives if they want you to go to theirs at Christmas and don't allow yourself to be bulldozed into doing things you don't want to do.
You might want to tell people: 'Send us the invitation and we may or may not come depending on how we feel on the day' or 'We might be able to pop in for half an hour, but we might not'. It's a good thing to say to people to set their exceptions and I did that for a long time.
I also got in contact with The Compassionate Friends - a charity made up of bereaved parents supporting others more recently bereaved. They were were so helpful to me. To be able to talk to other people who have been through a similar experience was such a lifeline - you think you've gone mad and you don't like yourself for feeling so miserable, but meeting people who have had the same thoughts and feelings makes you realise you're normal.
I've since become a trustee of the organisation, and quite often now I will be online on Christmas Day supporting new parents who are struggling to get through the day. We also have a candle lighting on the second Sunday in December - we all light a candle at the same time for our child, and many of us get together to celebrate our children - it's a lovely way of uniting us all.
Christmas is a very lonely time for a bereaved parent. As years go by you develop coping strategies ad figure out what works for you and what doesn't and you begin to cope with it.
And anybody who knows somebody who's lost a child, especially recently, I would say acknowledge it. Just a hug or a 'I'm thinking of you this Christmas' means a lot. People are frightened of doing that, but they shouldn't be. We haven't forgotten our child at Christmas and they need to be celebrated on that day and all the others.
Sue is a trustee for The Compassionate Friends (opens in new tab), a charity dedicated to helping support bereaved families.
You can visit their website to find out about all the support they offer, call their helpline on 0345 123 2304 or email helpline@tcf.org.uk
Charlotte Whistlecroft is a former Family writer at GoodTo. She obtained a BA in Theology and Theological Studies at Durham University, going on to study a masters at City University London in 2016. Since leaving GoodTo she has worked as a Social Video Researcher at Mail Online and is now Assistant Producer at BBC Sport.