My kid hated his high chair - here are 7 expert-approved tips I tried to make mealtimes less of a battle
If your kid hates their high chair, know you're not alone and it is a phase.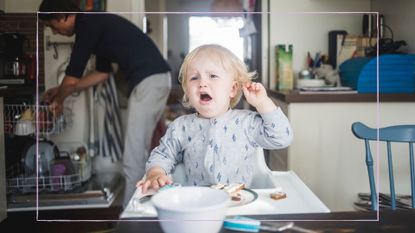 (Image credit: Getty images)
My kid hated sitting in his high chair for meals, every day was a bit of a battle filled with tears and frustration, and he didn't love it either. Please know that you're not alone, we speak to the experts for tips on how to navigate this phase.
Parenting is the best job in the world and also, quite possibly, the hardest. One of those times can be weaning and sometimes the choice of high chair can make all the difference, we've tried and tested the best high chairs out there to help you - take a look. For my son, the novelty of sitting up in a high chair wore off around 12 months, until about 19 months.
He just wouldn't stay at the dinner table. Sometimes he would yank at the straps and squirm down off his high chair; other times he protested with launched food and a dumped cup or plate. Though, mostly he was buzzing with energy and wanted to eat then run around, then come back and eat some more. "Sitting on your bum please." was the war cry of every dinner time.
While my child is now 5-years-old, I followed registered nutritionist and mum-of-two, Charlotte Stirling-Reed from the beginning, her eldest is the same age. She tells me; "This is such a common one, so please know that you're not alone. Sometimes babies just feel overwhelmed at the start of weaning and so are really unsure about the chair." Below are expert-approved strategies, tips, and ideas that can help you feel more settled and at ease come meal times.
My kid hates their high chair
As a registered nutritionist, author, and founder of the SR-Nutirion online weaning course, Charlotte tells me, "There are so many reasons a child may not want to sit in their high chair. Sometimes babies don't like being strapped in for a long time or it might be that baby had a negative experience in the highchair at one point and so is, understandably, reluctant to go back." Below are Charlotte's top seven tips to try;
Familiarity - Try to get baby used to the highchair BEFORE they begin weaning. Bring them into meals and try to let them experience the social element of mealtimes early on.
Positive atmosphere - Focus on helping baby to be happy in the chair, without pressure to eat. Maybe that's eye contact smiles and conversation with a parent, rather than just a focus on eating.
Be baby led - Try to put them in it at a time of day when they are MOST calm and relaxed.
Positive association - Put them in the highchair for other fun activities such as messy play or singing time to allow them to experience happy times in the highchair.
Change it up - Move the position of the highchair around the table.
Pressure free - Avoid pressures to "eat up" and instead eat yourself and let baby watch and learn. Also, encourage them to play with their food.
Comfort it's key - Make sure baby is comfortable in the highchair - a footrest, removable tray and a cushion can all help. pty list
When I was weaning Ted, I had to constantly remind myself, when he threw food on the floor or tried to climb out; 'he's not giving me a hard time, he's having a hard time.' And I had to remember that he couldn't tell me if he was uncomfortable or bored, he had to show me... by trying to climb out. No one told me 86% of parenting is guessing and pre-empting.
I tried each of Charlotte's tips in varying situations, it helped me to build up a great arsenal of skills I could call on during tricky mealtimes. One of the main ones I found most effective was being reflective and baby-led during this phase. I mean as an adult, if I was tired and being forced to sit up at a table, I might well lose it too. We used the Baby Dan high chair (view at Amazon | £120) and it was great as it meant Ted was sitting at the table, it didn't come with a tray, and it saw him right through until he was 5 as it becomes a chair too.
Parenting expert, nanny, and mum-of-two, Kirsty Ketley agrees with Charlotte; "I've seen [high chair resistance] loads of times throughout my nannying career, and with my own children, it's a normal kid phase."
"For babies, it's important to make sure that they are not too tired. That is often the main issue or that they are so hungry they can't cope, so be mindful of feeding them at the right times for them."
Once in the chair, use distraction with toys - water pat mats are great and harder to be flung on the floor and can be calming. Worth bearing in mind that your little one might prefer sitting directly at the table, so take off the tray and push the chair to the edge. You can also try a booster seat that straps onto a dining chair, 9/10 that does the trick.
"Try to avoid creating habits, you don't want to carry on, such as screens and toys with toddlers. Asking a toddler to help can ensure they sit at the table too. So, include them in meal prep - making sandwiches, stirring sauces, setting the table, choosing plates and cups etc. All can help make meal times less stressful."
---
To make meal times that little bit easier for you and your little ones try our round-up of best tried and tested high chairs, we also speak to the experts about the term 'fussy eaters' and what it really means and how best to navigate it with your child. And not forgetting just how to get started on baby weaning - we have all you need to know.
Video of the Week:
Stephanie Lowe is Family Editor at GoodTo covering all things parenting, pregnancy and more. She has over 13 years' experience as a digital journalist with a wealth of knowledge and experience when it comes to all things family and lifestyle. Stephanie lives in Kent with her husband and son, Ted. With his love of choo-choos, Hey Duggee and finger painting he keeps her on her toes.