'I'm going to keep having dead babies' Nadia Sawalha opens up about her fears following miscarriage heartache
Nadia Sawalha opens up about devastating miscarriage heartache in emotional podcast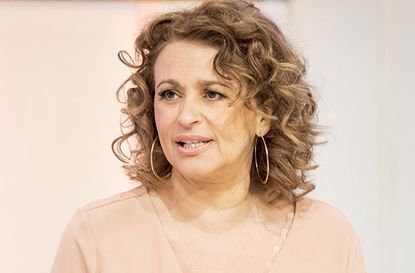 Nadia Sawalha and her husband Mark Adderley have opened up about their devastation of having four miscarriages in an emotional podcast.
The couple shared a very honest account of their experiences coping with miscarriage (opens in new tab) on Sunday, in a podcast titled 'Dealing With the Heartbreak of Miscarriage (opens in new tab).'
'From the second you know you're pregnant you start making plans. It doesn't make any difference how far you are. You can see their face, you can see their smile, start planning where they will go to school', Nadia said.
Recalling each painful miscarriage, Nadia and Mark struggled throughout the podcast to hold back their tears, with the Loose Women star needing to take a moment to compose herself before revealing the traumatic details of the birth of their oldest daughter, Maddie, 15.
'We then had our darling Maddie,' Nadia said after discussing her first miscarriage. 'She was so precious - born on Christmas Day after a terrible, terrible labour - a survivor of torture after a traumatic birth.'
Explaining her fears after Maddie 'landed on the floor' following her birth, Nadia confessed: 'I was so shocked and I thought, 'Oh my God she's dead', that's what I thought, 'She's dead and I've had the miscarriage and I'm just going to keep having dead babies.'
After their third miscarriage, the couple revealed that they kept the baby's foetus in the freezer because they didn't want it to go anywhere.
Mark explained: 'It felt strangely peaceful, because there was some kind of comfort I felt.'
Nadia then admitted that throughout her pregnancy with their youngest, Kiki, nine, she spent the whole time worrying, she said: 'I wasn't waiting to have a baby, I was waiting to have a miscarriage.'
Fans of the couple were quick to express their sadness over the couple's heartbreak, but also thanked Nadia and Mark for sharing their story.
'Wow I was gripped by this story. So real and an uncut, frank discussion. Very interesting and well done. So glad you got your babies,' one fan commented on Twitter.
Another said: 'Thank you for talking so honestly about this, i cried my entire way through this podcast, both of your bravery is amazing. Again i can't thank you both enough for this.'
While a third added: 'Your video broke my heart I wanted to come and give you a big hug I'm so proud of you sharing your story I hope it can help others in a similar situation xx big hugs to you both xx Love you xx'.
If you've been affected by miscarriage, molar pregnancy or ectopic pregnancy and want to talk to someone, you can contact The Miscarriage Association, confidentially, on 01924 200799.