Online games for kids
If you can't get your kids away from their computers, why not introduce them to a selection of online games that might teach them something too? They won't even notice the educational element as they'll be too busy having fun!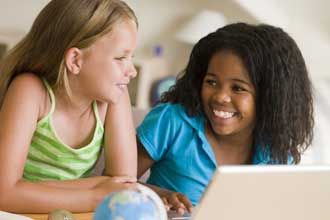 If you can't get your kids away from their computers, why not introduce them to a selection of online games that might teach them something too? They won't even notice the educational element as they'll be too busy having fun!
Teaches history A treasure hunt adventure full of fun and Horrible Histories facts like 'Songbirds were a great delicacy for rich Tudors. Some were even baked alive inside pies'. Yuk! Stroll around the town collecting pieces of a treasure map, video clips and passwords, choose questions to ask people and find objects other people ask you to get for them. There are 4 adventures - Rotten Romans, Terrible Tudors, Awful Egyptians and Measly Middle Ages. Once you have all the passwords you can play the final Time Sewer Challenge and become a Horrible Histories expert. This is fantastic interactive game that'll keep the kids busy for ages! Plus, they're learning at the same time!
Teaches maths skills Make sums fun with Math Lines. You have to destroy balls by forming pairs that add up to 10 by pointing at them and shooting. You can also use one ball to destroy a group of same-numbered balls. It requires quick maths skills to explode all the balls. Be careful, it's addictive!
Teaches co-ordination Based on the Disney film Tangled, Flynn, the courageous hero, is running from the guards. Help him escape and collect items along the way to help you pass to the next level. Fun and only requires basic up, down, left, right, jump, hide keyboards skills.
Teaches trajectories, speed and distances Information is received that Loki, Baron Zemo, Crimson Dynamo and Abomination have joined forces and you have to stop them! You aim and shoot an Avenger into the air, learning about trajectories by stopping the gun at the angle of your choice and choosing the right amount of power for distance. The Avengers act as cannonballs and destroy every baddie they come into contact with. It's a bit frustrating while you get the hang of it, but then it's fairly straightforward to progress to the next level. Try and get the boys away from this game at your own risk!
Spongebob Squarepants' Deep Sea Surgeon
Teaches hand-eye coordination Spongebob is always a big hit with the kids, so a fun game with him as the star is bound to go down well. Spongebob is feeling under the weather and has some very strange objects inside him. Drag them through the maze of intestines, but don't touch the edges or Spongebob will feel worse! It's a bit like a virtual version of board game Operation. Great for fans of the TV programme and also for hand-eye coordination.
Teaches engineering skills For budding engineers, this game will test your child's problem-solving skills while they're tinkering around in the workshop of Wallace, of Wallace and Gromit fame. You start off in the practice shed where the first thing you have to do is help Wallace build an object that transports a crash test version of Wallace to the Tube. If your design doesn't work, you can always go back for a tinker!
Develops memory skills Chase Stickybeard through the tunnels as he tries to infiltrate the den by memorising the level codes and repeating them to open the doors. There are five lights on each door, just copy which flashing lights in the correct order and the door will open. Great for practising memory!
Teaches spelling Do you have a child who loves spelling, or one who needs a little help? Make it fun with this Spelling Bee game. There's even a mini Bee game for 5- to 11-year-olds. If you want to play a game without sound, you can play My family camping holiday with lots of activities including filling in letters (teaches spelling) and then you have to fill in what you've remembered from that exercise on the next page. It's all good learning, but fun at the same time!
Sesame Street's Tooth Fairy Training
Teaches basic day-to-day activities Help put the events in the right order with your magic fairy wand! Start with teeth brushing. Which comes first? Rinsing? Sleeping? Putting toothbrush on your brush? Get the video in the right order and you can move on! Perfect for little girls.
Teaches spelling and concentration Fun online wordsearches that don't need to be printed, including a Harry Potter and the Goblet of Fire search, animals, countries and more. Do it against the clock and see if you can beat your time! Kids will love this, but only if they have the patience to find all the words!
Where to next? - Top 10 board games for kids - Retro outdoor kids' games - Family party games