These are the best Christmas games for families 2023, according to our trusty panel of testers
From board games to quizzes, we've rounded up the best Christmas games for families to enjoy on the big day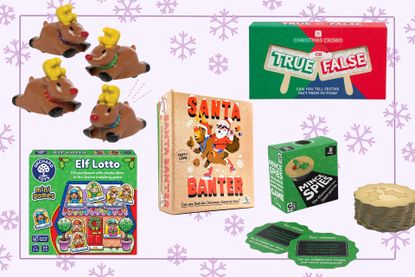 (Image credit: Future)
The best Christmas games for families provide endless entertainment, laughter and the perfect opportunity to bond over the festive season.
Once the kids have opened their top Christmas toys around the tree and you've watched all the Christmas movies Netflix has to offer, it's time to add these family games to your list of things to do this festive season.
So, whether it's the best Christmas board games, card games or other group activities, enhance the joy and camaraderie of the holiday season with our top picks of the best Christmas games for your whole clan.
Best Christmas games for families 2023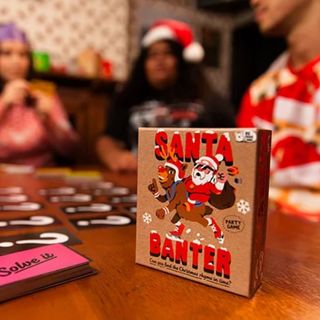 Players: 4 or more | Age: 14+ years
Aim of the game: Solve, describe, or act out as many Christmas rhymes as you can while your team tries to guess them in 30 seconds.
Why we love it: "This game is hilarious. It's a Christmassy version of the Obama Llama party game, which was a hit in our house a couple of Christmases ago," says our consumer editor Heidi Scrimgeour. "You play in teams, so it's a good one for pitting family members against each other for lots of laughs. Stay off the Sherry, though, as you'll need your wits about you.
"I recommend it to all my friends. Once you get the hang of it, it's really good fast fun. Though *spoiler alert* I am not a fan of the act it out cards." Heidi confesses.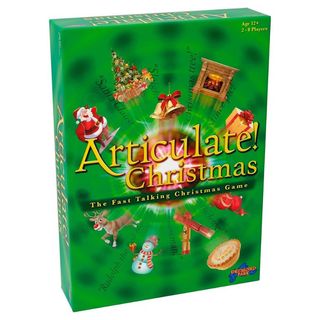 Players: 4 or more | Age: 12+ years
Aim of the game: Players split into teams and describe words to each other from six categories; Object, Nature, Random, Person, Action, and World, all Christmas-themed, as quickly as they can. Then move around the board based on the number of words they guess correctly.
Why we love it: "We loved playing this game," says our family editor Stephanie Lowe. "It especially works if you play with someone you know really well and have 'in jokes' with that help it along.
"We also introduced house rules, like we doubled the time and changed the cards when we wanted, it made a more fast-paced game. I recommend this to friends who need 'bigger group' games every year."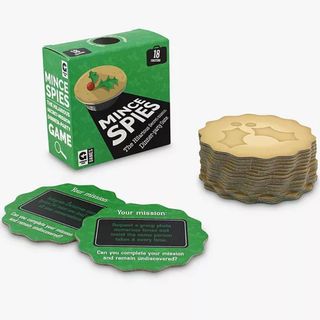 3. Mince Spies Christmas Party Game
Players: 4 or more | Age: 7+ years
Aim of the game: To complete your Mince Spies mission without being found out. God Speed.
Why we love it: "I took this to my family meal of 12 of us aged between 5 and 65 years old - it was a hit. At each place, I set one of the Mince Spies coasters. To add to the game, I text everyone their strict 'Spy instructions' of sit down, read your coaster, say nothing, complete your mission', and it went down a storm.
"There's one coaster that says 'request a group photo numerous times and request the same person take it every time', watching my brother wonder each time, 'what? me? again?' each time was hilarious. And even the kids loved it.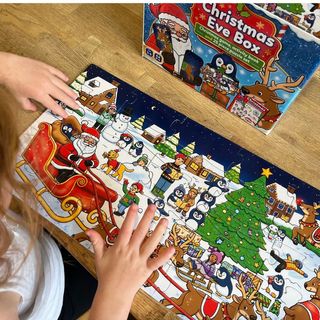 Players: 2-4 | Age: 3+ years
Aim of the game: Reindeer race game
Why we love it: "The Reindeer Race game was fun to play with the family - a bit of prep work before you start playing however as you have to pop all of the pieces out of the cardboard frame but we got there in the end and it was a good mini-board game." Mum Jess tells us.
"Just be aware," she adds, "there are little plastic holders for each of the reindeer to stand on so be careful not to lose them when you empty the box onto the dining table. We'd lost two at the start but managed to find them under the stack of puzzle pieces!
You also get a puzzle and activity book included.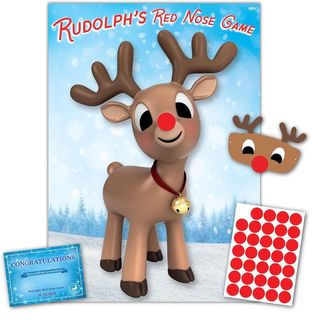 5. Rudolph's Red Nose Game
Players: 4 or more | Age: 3+ years
Aim of the game: place the red nose on the right spot on Rudolph's body. This is a fun festive twist on the classic 'Pin the Tail on the Donkey'.
Why we love it: "So, one person is blindfolded and spun round to disorientate them. Once released, you then point them in the right direction and place the red nose in their hand, with something sticky on the back. Let them guess where Rudolph's face is, whoever got closest wins a prize," Mum Bex explains. "This involved the whole family and had the kids in fits of giggles," mum Bex tells us. "My daughter Aria loved it, she soon got the hang of game tactics and was directing Daddy away from Rudolph in an attempt to win!"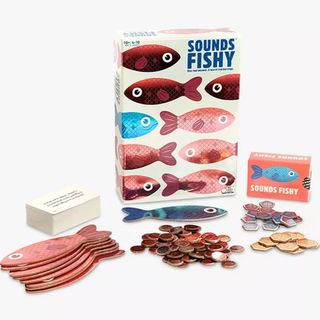 Players: 4 or more | Age: 10+ years
Aim of the game: Find the fake answer. Each person has to find the red herring in a sea of answers. Think you can guess which animal was elected mayor of Alaska? Well, in this game, it's not the right answer. You need to catch the fake answers invented by the other players - while trying to avoid the real one.
Why we love it: "This is a firm favourite in our household and comes out every year," Hevs tells us. "And we add fans every time we play it - inviting people to live the lie when making answers up. There are over 100 cards so no repeats for a while."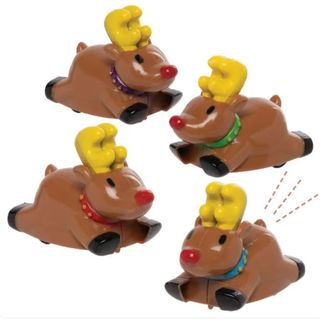 Players: 4 or more | Age: 14+ years
Aim of the game: Be the first reindeer across the finishing line. Dasher, Dancer, Prancer, and Vixen are all ready for you to race them - simply map out your course, line them up at the starting line, pull back their lever, and watch them go.
Why we love it: "These were loved and raced throughout Christmas day," says our parenting and family editor Stephanie Lowe. "They even made an appearance at the Christmas dinner table to decide who got to have the last roast potato!"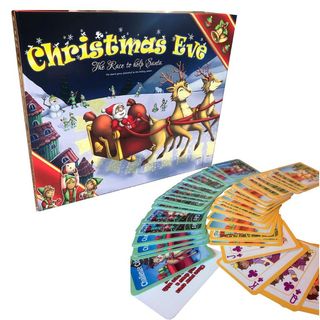 Players: 2-6 | Age: 5+ years
Aim of the game: Father Christmas's sleigh has crashed and you must race the other players to find the lost presents and save Christmas. The one to the end first, wins.
Why we love it: "Grandparents brought his one. You can play together as a team or against each other, The festive race along the board collecting presents to give to Santa and help save Christmas just really hammers home that festive feeling." Dad, Mark tells us. "We've made it a Christmas Eve tradition now."