34 of the best Christmas games for families 2022
Avoid the after-Christmas dinner lull by getting everybody up on their feet and playing one of these fun Christmas games!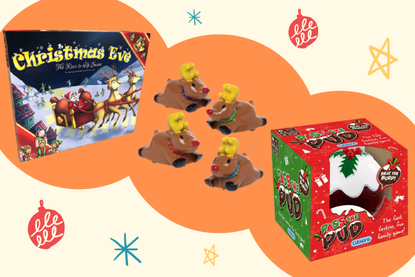 Christmas games are a great way of breaking up the festivities and avoiding that post-dinner lull - after eating too much turkey.
It's always a little tricky to distract the kids from their top Christmas toys (opens in new tab) after the present opening, but we reckon that these best Christmas board games (opens in new tab) and kids party games (opens in new tab) will certainly capture their attention.
Whether it's one of the best kids board games (opens in new tab) given a fun Christmas twist, a silly DIY game, or a modern offerings that includes throwing rings on a reindeer - there are plenty of Christmas games we've found that are suitable for all ages and promise to entertain everyone.
Best Christmas games for the family 2022
---
How to play: Players take it in turns to draw a card from four mouth-watering categories. They must come up with a word to match the card's theme, before quickly passing the pud on to the next player who must also come up with a suitable answer – and so it goes on until the pudding goes 'burp!' The player who is holding the Pud when it burps is the loser and the rival team receives a sixpence. Once all of the cards have been used, the team with the most sixpences are the winners.
"Gibsons games are always reliable and Pass the Pud is no exception," says our consumer editor Heidi Scrimgeour (opens in new tab). "There's a touch of educational learning in there but there's also just the right amount of cheeky humour at stake - guaranteed to get the youngest and the oldest laughing when the Pud finally burps!"
---
How to play: Split into two teams of at least two players. One team spins the spinner - which has three options: miss a go, twist or sprout. If it lands on twist, a team member has to pick up a twist card and then either hum the tune that's written down, or act out a task using only silent clues (similar to charades). Their team mate has 60 seconds to guess the answer, and a sand timer is included to count down the short time.. If the spinner lands on sprout, a sprout card is picked up and the general knowledge question is read out for the other team member to answer. And again there's only 60 seconds to answer the question.
---
How to play: Players split into teams and describe words to each other from six different categories including Object, Nature, Random, Person, Action and World (all Christmas themed!) as quickly as they can. The teams then move around the board based on the number of words they guess correctly and a couple of spinner bonuses.
"We had so much fun playing this game," says our parenting and family editor Stephanie Lowe (opens in new tab). "We tweaked the rules to suit our group, we doubled the time and changed the cards when we wanted, made it a more fast-paced game."
---
How to play: You can play this one together as a team or against each other, whatever you choose. Roll the dice and race along the board collecting presents to give to Santa and help save Christmas. Landing on certain spaces can help or hinder your journey, with some involving a mini-game such as a Christmas challenge card, play the higher or lower bridge, complete the Snowman Waltz or try the (risky) Avalanche rolling. The one who makes it to the end first wins.
---
How to play: This is one of those Christmas party games about completing secret missions… without getting caught. Each family member is assigned 6 missions which they must carry out covertly on other players. From getting them to sing 'Jingle Bells' to convincing them that it's snowing outside. The play continues until someone gets three missions and wins.
"This is one for slightly older kids as there's a fair bit of strategising involved," says our consumer editor Heidi Scrimgeour. "Be warned that it's highly competitive and the game isn't over until the winner is declared so it's one that can run and run."
---
How to play: Talking of our all-time favourite Christmas movies on Disney+ (opens in new tab)- this board game is based on the one and only Elf starring Will Ferrell. A festive version of snakes and ladders - but with syrup and candy sticks instead. Players take turns to roll the dance and move around the board. And should they land on an elf square they'll be asked to pick up one of the special Elf cards and complete a challenge.
---
How to play: Either make your own or pick up a reindeer ring toss set (opens in new tab)from Amazon. One person in the group wears the reindeer's antlers and stands still while other players try and land their rings on the antlers. Stand a couple of metres back and keeping moving back with each round. Whoever still manages to hook their ring on reindeer's antlers at the furthest distance is the winner.
"This one kept my son entertained, from trying to blow up the rings to actually playing the game," says our parenting and family editor Stephanie Lowe. "Was a favourite out of his stocking filler gifts."
---
How to play: One person is blindfolded and spun round to disorientate them. Once released, point them in the right direction and place the red nose in their hand, with something sticky on the back. Let them guess where Rudolph's face is and attempt to stick the red nose where it should go. The whole group each take turns in doing this and whoever got closest wins a prize!
---
How to play: A Christmas and kid-friendly version of Chess. Line your snowmen up against your opponent and take it in turns to move close to the Santa counter in the middle. Just like the classic game, some snowman have special powers and can only move in certain directions. So be sure to check the rule book first for the full debrief.
"This is a game for two players so it's ideal to play with your little one or even for siblings to play together," says consumer ediotr Heidi Scrimgeour. "The players compete to be the first to get to Santa so it's also a lovely game to play as the excitement builds on Christmas Eve. Maybe even one to pop in the as a Christmas Eve box filler (opens in new tab)! It's a bit like Chess but suitable for little ones aged five and over, plus the game is over within around half an hour so it won't delay bedtime!"
---
How to play: There are three kinds of Christmas trivia cards to play - a picture, theme or pot luck card. On each card are four questions in four different colours. Answer the question correctly and your team jumps forward on the board to that colour space. And so on. Get the answer wrong and the next question goes to the other team - giving them the opportunity to jump ahead. On the board are ornaments to land on and collect on the way. Decorate the tree as you go along and the winners are the ones who add the final star to the top.
---
How to play: Forget Santa and his sleigh - it's all about the ability and agility of his reindeers in this kid-friendly Christmas game. Dasher, Dancer, Prancer and Vixen are all ready for you to race them - simply map out your course, line them up at the starting line, pull back their lever and watch them go!
"These were loved and raced throughout Christmas day," says our parenting and family editor Stephanie Lowe. "They even made an appearance at the Christmas dinner table to decide who got to have the last roast potato!"
---
How to play: How well do you know your Christmas carols? This quick 20 question card game has the question master read (or sing) out lyrics from famous Christmas carols. And it's up to the players to guess the carol right for a point. Tot up your points at the end and see who takes the carol crown.
---
How to play: A Christmas version of the Obama Llama party game. Your job is to describe as many rhymes as you can whilst your team tries to guess them. Each team has 30 seconds each. From rhymes like 'Rudolph is playing golf' and 'The fairy lights are starting fights', it's sure to test everyone's ability. Our pick of one of the best Christmas games in 2021.
"This game is guaranteed to get everybody laughing. It's a Christmassy version of the Obama Llama party game, which was a hit in our house a couple of Christmases ago," says our consumer editor Heidi Scrimgeour. "You play in teams, so it's a good one for pitting family members against each other for lots of laughs. Stay off the Sherry, though, as you'll need your wits about you!"
---
How to play: A storytelling game with a difference - perfect for little kids come Christmas day. Match the six Christmas character cards with some of the 56 story cards that give you everything from prompts on the setting and drama to some festive props. Come up with a story including all the elements and share aloud.
---
How to play: One of those must play Christmas games. You know the rules and this Christmas version of everyone's favourite family board game has festive features like snowman and Christmas pudding counters. Plus you're trading in grottos and workshops instead of houses and hotels.
"We all loved the new board pieces; fighting over who got to be the snowman, reindeer or Christmas turkey. And, the change to grottos and workshops was great; truly inspired," says our parenting and family editor Stephanie Lowe.
---
How to play: Fill your stocking with only the best gifts on offer. Presents might be really nice or really naff - and you may not find out what the other players have dished out to you until you open them at the end of the game. Pull a cracker card to snatch a better present from someone else's stocking. You may even have to sing a favourite festive song to avoid losing one of your own prezzies in this crazy Christmas games.
---
How to play: Just like the traditional game except the numbers have been swapped with Christmas items like an angel, bauble and a Christmas jumper. The bingo caller picks a caller image randomly and reads out the Christmas item for the players to cross off if on their bingo card. Play continues until a player has a full house and shouts 'Christmas Bingo'!
---
How to play: One of those quick fire trivia Christmas games sure to test everyone's seasonal knowledge abilities. Inside the box you'll find 60 cards with festive facts and lies that you must get right by waving your 'true' or 'false' paddle.