#PNDHour: the Twitter lifeline for Postnatal Depression
With women struggling to find the support they need for postnatal depression, Rose Wren set up two twitter hashtags so help is available night and day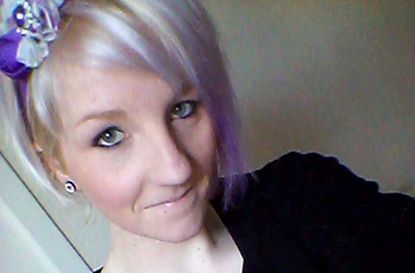 Having suffered postnatal depression with her three children, Rose Wren, 25, from the Outer Hebrides, set up #PNDHour on Twitter.
Her aim was to bring together those suffering from the illness to offer support, raise awareness of postnatal depression and reduce the stigma surrounding PND.
We spoke to Rose about #PNDHour (Wednesdays, 8pm to 9pm) and #PNDChat, the difference they're already making to women with postnatal depression, what misconceptions exist about pre and postnatal depression, her blog and her campaign for change.
You can read Rose's personal story here.
What is #PNDHour and why did you set it up?
I set up #PNDHour after joining Twitter and seeing lots of hours dedicated to different topics/places, so I thought an hour dedicated to openly talking about pre and postnatal depression would be a beneficial idea for patients and professionals, as being a sufferer of PND I understand the importance of providing feedback in order to help improve services.
I decided to set this up via Twitter as after joining and seeing how openly people discuss mental health issues, including postnatal depression, I felt it was a good platform for open discussions with the ability to reach a wide audience.
We've had a number of chats now and have discussed a fantastic range of subjects from peer support to training for professionals. The summaries of the previous #PNDHour chats can be found on my blog.
The main aims of setting up the #PNDHour were:
*To provide a safe space to discuss topics surrounding pre and postnatal illness. *To help connect those affected by the illness, and provide support for each other. *To increase awareness and encourage open conversations about the illness. *To discuss where improvements could be made in all areas of the support provided for those affected.
This comment sums ups how #PNDHour has helped already. It comes from Leigh, a survivor of postnatal depression, who can be found on Twitter at @PNDNerves.
'#PNDHour has brought together large numbers of people affected by PND, women, men, sufferers, survivors and support groups/charities, as well as medical professionals specialising in the field. It offers a lifeline to those struggling with a diagnosis, to partners who don't know how to help, and offers hope through survivor stories.'
'It allows contributors to share experiences, tips, coping strategies and sometimes just to lend a supportive ear. In doing so I'm sure that it is helping those affected to come to terms with the diagnosis, and move forward from it. For survivors like me, it provides a safe location to help others and maintain my own support network in order to hopefully avoid a relapse. All of this has been achieved in a relatively short time period and grows each week. In the longer term, I hope that #PNDHour can help to reduce stigma and raise awareness on a national scale. It's #timetotalk.'
Alongside the #PNDHour hashtag, I also set up #PNDChat, which is in place to help connect those affected by the illness - isolation is a big issue for those affected by postnatal depression and I hope that through the #PNDHour chats and using the #PNDChat hashtag when tweeting about PND, it will help connect and support mums, and families affected by this hidden illness.
What are the misconceptions surrounding pre and postnatal depression?
*That it only affects a small minority and those with previous mental health issues - The fact is pre and postnatal depression isn't fussy. It affects women from all walks of life, whether you be a young mother, a mother in your 40s, unemployed or a professional, pre and postnatal illness can affect anyone. This fact in itself needs to be better documented as it will help those affected by the illness see that they are not alone. *That it comes immediately after the baby blues - It is not well documented that postnatal depression can in fact present itself any time within the baby's first year. If mothers know this it may help those affected later on in their child's first year identify the symptoms and seek help. *That if you have bonded with your baby then it isn't postnatal depression. Some women find the bonding side of things a big symptom of PND, where the instant overwhelming love doesn't come and you find yourself feeling disconnected from your baby. However, just as many women bond perfectly well with their baby and often find themselves being very protective and not wanting others to hold/look after them.
What improvements would you like to see in pre and postnatal care?
So many areas of pre and postnatal depression care need improving. No child should ever have to lose a mother to postnatal depression. We, as a society, need to do more to help prevent the tragic cases that we hear of far too often in the UK, of mothers who felt so unsupported, so alone, that they felt their only option was to take their own lives. Where was the support for these women? Too many are failed by the health care professionals who are supposed to be there to help. Things need to change. We cannot continue to let down these mothers in their time of need. I am passionate about getting the voices of those with postnatal depression heard. We are the ones who can help change the services that are available. We are the ones who can say what we needed when we were at our lowest, and help healthcare professionals truly understand the overwhelming loneliness that postnatal depression can make women feel. We are the ones who can change this - all we have to do is never stop shouting. We CAN make a difference to the lives of those with postnatal depression.
Better knowledge antenatally - So many women aren't aware of prenatal/antenatal depression, so will suffer in silence thinking their symptoms are just regular changes during pregnancy. Better information in antenatal classes beyond the 'baby blues' is crucial to help women be aware of the symptoms and, in turn, hopefully feel more able to seek help should they feel they need it.


Greater number of mother & baby units across the UK - There is currently around a 60% shortfall in the number of beds available in mother & baby units. Many women find themselves having to travel hundreds of miles away from home in order to gain access to a unit. This isn't acceptable and changes need to be made so access to units is easier and more accessible for those in need of this type of support.


Health professionals to be better trained in mental health - I've come across numerous cases where GPs and Health Visitors simply aren't well enough equipped to deal with mothers who present themselves with symptoms of depression. Specialist mental health training needs to be mandatory, not optional, for all health professionals who come into contact with mothers, from the antenatal through to postnatal stage. This will help identify the symptoms earlier, and help provide the best support possible for mothers affected by pre and postnatal depression.


Better support - So many women feel left to deal with postnatal depression alone once diagnosed. There needs to be greater support offered once a mother is diagnosed in order to help her recovery, and better support antenatally in order to help spot the symptoms of depression in both pregnant mothers and in the postnatal period. This involves creating better relationships between mothers and healthcare professionals so mothers feel more able to be open about their feelings. This, in turn, will help create an earlier diagnosis for those women who are often struggling in silence due to fear of the stigma which is so often attached to mental health illness. There needs to be a greater number of postnatal depression support groups available, and courses such as the one run by Bluebell Care in Bristol, which provides a safe space and something to focus on, which are key to recovery for any mother with a postnatal illness.
PND and Me
I began writing a blog, PND and Me, in January 2014. Although it's only a few months old, I have found it very therapeutic and have had a number of positive comments from those who have read it, saying how they can relate to so much of what I write. This really does show that we never have to feel alone when suffering with postnatal depression. The support is out there, we just have to take that step and reach out for it. I hope that I can continue to help others through my blog. I'm not afraid to be brutally honest about my experiences - postnatal depression is quite simply a living hell when you are at your lowest, but as mothers we soldier on, but we can't be superwoman all the time. Sometimes all we need is someone to say 'I've been there, you're going to be ok'.
There is nothing to be ashamed of if you suffer with postnatal depression. It doesn't make you a bad mum, it doesn't mean you don't love your baby, or that your baby will be taken away from you. So many women suffer from this illness - it is far more the norm than we may realise. Approximately 1 in 7 women are diagnosed with postnatal depression and, shockingly, around 1 in 3 women never seek help. These are frightening statistics and changes need to be made. We can not continue to keep failing these mothers.