Week by week pregnancy guide: 21 weeks pregnant
Everything you need to know...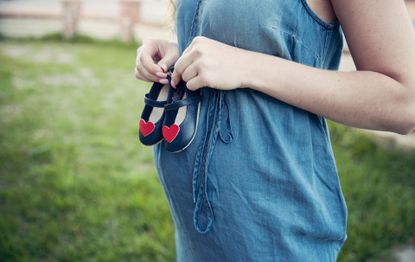 GoodTo newsletter
Sign up to the GoodTo Newsletter. You can unsubscribe at any time. For more information about how to do this, and how we hold your data, please see our privacy policy
Thank you for signing up to . You will receive a verification email shortly.
There was a problem. Please refresh the page and try again.
You're now 21 weeks pregnant but what should you expect? Read week 21 of our week by week pregnancy guide to find out everything you need to know...
Tracking your pregnancy week by week (opens in new tab) is helpful for keeping on top of everything and getting prepared for your little one. Here's everything you need to know about being 21 weeks pregnant.
At 21 weeks pregnant you can start thinking about when you'd like to take your maternity leave and you might even want to start thinking about baby names. We've put together everything you need to know about this week of your pregnancy, so you can relax, knowing everything you're going through is normal...
21 weeks pregnant: Symptoms
You may start to feel a bit breathless around this time as your uterus presses against your diaphragm and leaves less room for your lungs. If you're having trouble sleeping (opens in new tab), try putting a pillow between your legs and get used to sleeping on your side.
Have a warm milky drink and snack before bed (hunger is a common cause for insomnia in pregnancy) and try to relax. Listen to soothing music, or a relaxation tape. But don't take sleeping pills, even herbal ones aren't advisable in pregnancy.
Up to 30% of mums-to-be suffer from leg cramps during pregnancy. These can be excruciatingly painful and often strike at night. If you're one of the unlucky ones, try sticking a pillow under your feet at night or even raising the foot of the bed. Another tip is to do some calf stretches several times during the day and before going to bed.
If you suffer from eczema you may find that it improves during pregnancy. This may be due to an increase in the body's natural steroid-like hormones that are produced during pregnancy.
21 weeks pregnant: Fetal development
They are now around 26.7cm and weighs 360 grams. Their heart is getting stronger, legs are in proportion to the body and baby's putting fat on their bones. Because their muscular and nervous systems are now mature enough for them to stretch and move their limbs they'll become increasingly active... even doing backflips while there's room!
21 weeks pregnant: The changes you should make
Now's the time to start thinking about when you might want to go on your maternity leave. Usually, the earliest leave can start is 11 weeks before your expected week of childbirth, although many women prefer to work as close to their due date as possible so that they can have longer at home with their new baby.
Ask your GP or midwife for your maternity certificate called a MAT B1. This is proof that you're pregnant and confirms when your baby is likely to arrive. You must give it to your employer at least three weeks before you intend to take your maternity leave.
Some women will have a foetal anomaly scan or amniocentesis this week, so that's another thing to consider.