Week by week pregnancy guide: 9 weeks pregnant
Find out how your baby's developing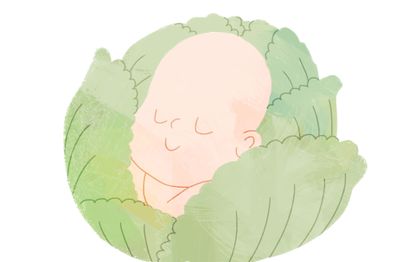 Your bra is bulging, your feel sick and your baby's only the size of a jelly bean! Welcome to being 9 weeks pregnant. But fear not, help is at hand...
Now that you are sure you're expecting, a pregnancy week by week (opens in new tab) guide can be useful.
Greasy hair? Acne? Sickness? Sore boobs? Fatigue? The 1st trimester of pregnancy isn't always fun, but find out the good news about how your baby's developing (while you suffer!)
Here's what's occurring when you're 9 weeks pregnant...
Swipe to scroll horizontally
9 weeks pregnant: Symptoms
You may find that your waistbands start feeling a bit tight, but this is probably more to do with bloating than an expanding baby belly. Your bra may start to feel a bit snug, too, while morning sickness (opens in new tab), mood swings and pregnancy fatigue may continue to leave you feeling drained and miserable.
It's hardly surprising, therefore, that most women whole-heartedly agree that the first trimester is the hardest. To compound matters, acne and greasy hair can become a daily challenge and you may feel like you've regressed into the hormone hell of your teenage years. The good news is that you're almost through the worst of it. The second trimester is in sight and from 12 weeks (opens in new tab) onwards you should start to feel more like your old self again.
Pregnancy does weird things to some people. If you find yourself chomping on charcoal or munching on mothballs then you're one of the tiny number of women suffering from extreme non-food cravings known as pica. Fortunately, most mums-to-be simply develop a craving (opens in new tab) for ice cream or pickled gherkins.
Sadly, during this early stage of pregnancy it is very common to experience a miscarriage. Around 15 to 20 per cent of pregnancies end in miscarriage and more than 80 per cent of those occur in the first 12 weeks of pregnancy. It's important to be aware of the signs and symptoms of miscarriage. (opens in new tab)
9 weeks pregnant: Fetal development
Your baby's now 18mm long, around the size of a jelly baby and is looking more like a little human. Nipples and hair follicles begin to form and the earliest beginnings of pointy elbows and tiny toes are just visible.
All essential organs have at least begun to form and their heart has now divided into four chambers. Their face is slowly forming. Their eyes are more obvious and have some colour in them although the eyelids will stay shut until Week 27. Their little mouth has a tongue and even tiny taste buds.
9 weeks pregnant: the changes you should make
This may be the week in which you have your dating scan. However, if you've chosen to have a nuchal scan to screen for Down's syndrome then they may wait and date your pregnancy at the same time rather than having two separate scans. Nuchal scans can be carried out between weeks 11 and 14. Your booking-in appointment may be scheduled for this week.
Health professionals recommend that you have your first bra fitting towards the end of the first trimester, usually between eight weeks and 10 weeks. A good maternity bra has wide shoulder straps, support panels, and adjustable back fastenings.