The best beauty products to use during pregnancy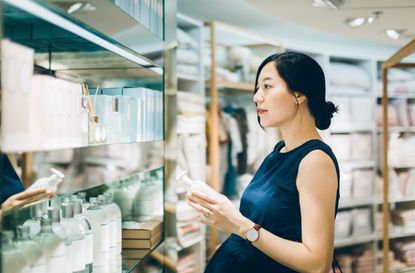 Having a baby is a great beauty look. Your skin is glowing, your hair is thicker – and you're growing a tiny human inside of you! But that doesn't mean that this time can't be a little overwhelming. We here to take you through all the products to ditch and the pregnancy beauty faves you'll be stockpiling for the next nine months (and beyond).
You've given up the sushi, said no to those cigarettes and even ditched the glass of wine with dinner. But what about your beauty bag? If you are wondering what's safe to use on your face and body while pregnant you're not alone. It's only natural now that you're taking care of two that you want to be as fit, healthy and safe as possible.
But with so much info out there it can be tricky to know what to chuck and what to choose. Luckily, we're here to take you through what to avoid, and show you the best of pregnancy beauty.
Spring clean your beauty shelf
First things first, go through your makeup bag and toss anything that's out of date. The last thing you want while pregnant is to pick up a nasty bug or infection so try to keep your products as fresh as possible.
Remember that mascaras have a short shelf life – you should be replacing yours every 3 months – while foundations can last a bit longer (6-12 months). Powder formulations keep best, so your eyeshadows, blushes and powder can stay in your makeup bag for 1-2 years. But if anything changes colour, consistency or smell, your best bet is just to ditch it.
Products to avoid
Mind your Ps and Qs
Parabens get a bad rep as it is – but for some people, using any while pregnant is an absolute no-no. Take a look at your favourite products and avoid them for the next 9 months if they do contain the big P.
Also, make sure you watch out for phthalates which are commonly found in synthetic fragrances and nail polishes; avoid diethyl and dibutyl especially as they can alter hormone levels.
Lastly, Quinone or Hydroquinone is a definite no-go while pregnant. This powerful skin lightener may be tempting to use—particularly when pregnancy brings on dark spots or full-on melasma—but one study shows that our skin absorbs between 30 and 40 percent of HQ when applied topically and we have no idea what it will do to an unborn baby. And when it comes to you and your tot, it's better to be safe than sorry.
Something fishy
Most people choose to stop eating fish while pregnant as the high level of mercury can be harmful to the baby. But did you know that mercury can also be found in your mascara? Check the ingredients to make sure your fave tube doesn't contain the preservatives diazolidinyl urea, which releases formaldehyde, or phenylmercuric salts, acetate or nitrate, all compounds of mercury.
Say bye to dye
The most common beauty fix that people give up while pregnant is hair dye. The reason? The frequent change in product formulation makes it very difficult to assess the potential risks. But don't panic, the NHS advice site says small amounts of dye –and even bleach – are non-toxic. But if you are still wary, avoid hair colouring for the first 12 weeks, when the fetus is busy forming integral body parts and organs.
Ditch the lipstick
Try avoiding lip colours while the baby is on board. Artificial colours found in lip formulation can contain traces of led so always make sure you check the ingredients list and rule out anything that includes CI 75470, Red 28 Lake Aluminum, Red 30 Lake Aluminum and Acid Yellow 23 Lake Aluminum.
Spot the problem
Though pregnancy can often cause hormonal acne, lots of our fave zit-zappers contain the likes of benzoyl peroxide and retinol. Ditch them and opt for more natural products where you can.
Some of our fave pregnancy beauty buys
Word has it that Kourtney Kardashian LOVES Mama Mio products. They're all natural products are safe to use during pregnancy and when you are breastfeeding. Her sister Khloe is also a fan of The Tummy Rub Butter, £23.50 and the Shrink to Fit Cellulite Smoother, £35 and even likes to steal Kourt's Pregnancy Boob Tube, £29.50 every day.
Their Keep Calm Nipple Balm, £12, is also a must have for breastfeeding mummas and the baby-safe salve doesn't even need to be removed before feeding your baby. And, if you're suffering from puffy, swollen legs, reach for Lucky Legs, £19.50. The cooling gel helps boost circulation and helps legs back to their pre-puffed state. No wonder Khloe's hooked, it's too good just to save for pregnancy!
Bloom & Blossom, Mother-to-be Gift Set, £45 is what your pregnancy beauty dreams are made of. All the B&B products use doctor led formulations alongside the finest natural botanicals and are specifically created to target any pregnancy skincare concerns you have. The kit's Indulgence Bath Oil, £18 and Revitalizing Leg & Foot Spray, £14 are a dream for soothing tired skin. Grab their Baby Sleep Bedtime Bath Milk, £12 to ensure your little one gets a good, restful nights sleep when they arrive.
Pamper yourself (and your aching feet) with a soothing bath soak like the Neal's Yard Remedies Mother's Bath Oil, £15. This luxurious product is completely organic and works overtime to relax and condition the skin while you bathe.
Avène Rich Compensating Cream, £17 is exactly what you need to calm sensitive skin and combat any flaky, dry patches that you're struggling with. Best of all the formulation is made from plant-based active ingredients and free from any nasty chemicals. Layer it on day and night for baby soft skin.
Non-toxic nail brands are a must if you want to keep your nails pretty during pregnancy. We love Zoya Nail Polish, £11.70 —they have loads of rich, glossy, polishes free of toluene, formaldehyde, DBP, and synthetic camphor. We're obsessed.
Stock up on Burt's Bees Baby Bee Nourishing Baby Oil, £9.95 and Neals Yard Baby Barrier Cream, £8 for when your little babe arrives. The all natural, deeply nourishing formulas will keep your little ones skin feeling soft, smooth and protects it from the elements.
The Natural Birthing Company also make amazing pregnancy beauty. Keep their Cool It Mama Body Spritz, £8.99 close by for when you're feeling hot and bothered and their Bosom Buddies Breastfeeding Oils, £15.99 are a trio of soothing, and moisturising formulas to keep your boobs looking and feeling their best through feeding.
Trusted, informative, and empathetic – GoodTo is the ultimate online destination for mums. Established in 2007, our 15-year-strong archive of content includes more than 18,000 articles, 1,500 how-to videos, and 7,000 recipes.