Sleeping on your side during pregnancy halves your risk of stillbirth
Your sleeping position during the final trimester is key…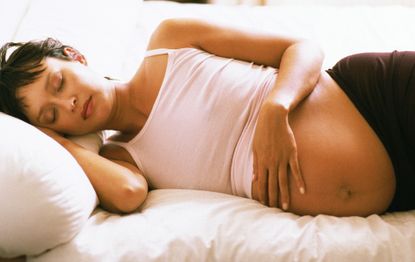 (Image credit: Photoalto/REX/Shutterstock)
Your sleeping position during the final trimester is key…
Shockingly, the UK has one of the highest stillbirth rates in Europe, with about nine babies being stillborn every day. In fact, around one in 225 pregnancies will end in stillbirth. Which makes knowing what we can do to help prevent it all the more important.
Earlier this year, researchers reported that sleeping for more than nine hours a night could increase your risk of stillbirth.
But it turns out how you sleep could be just as important. Now a new study of more than 3,000 women looking at sleeping position after 28 weeks of pregnancy has found that sleeping on your side during your final trimester can more than halve your risk of stillbirth.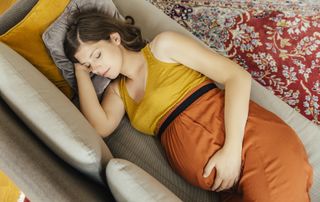 Sleeping on your back during the third trimester increases the risk of stillbirth by 2.6 times, according to the researchers. These results confirm the findings of several other studies.
Experts estimate that if every pregnant woman in the UK slept on their side during the last trimester of pregnancy, the lives of 130 babies could be saved each year. On a global scale, side-sleeping could potentially save 100,000 babies a year.
Scientists think that sleeping on your back might increase the risk of stillbirth because the weight of the baby and uterus puts more pressure on major blood vessels when you lie in this position. This can restrict the supply of blood, oxygen and nutrients to your unborn child.
If you find it difficult to sleep on your side, putting some pillows behind your back might help. Try to fall asleep on your side whenever you go to sleep, even if you're only having a nap. But if you do wake up on your back, don't worry – just roll over and go back to sleep on your side. One study suggested that sleeping on your left side was safest of all, but most experts now say it's safe to sleep on whichever side you prefer.
Parenting advice, hot topics, best buys and family finance tips delivered straight to your inbox.
Samantha is a freelance writer at Goodto who has been with team since 2019. Initially trained in psychology, she specialises in health and wellbeing and has additionally written for magazines such as Women's Health, Health & Wellbeing, Top Santé, Healthy, Refinery29, Cosmopolitan, Yahoo, CelebsNow, Good Housekeeping and Woman&Home.