The one thing you probably didn't notice about Prince George's new portrait
Did you notice this?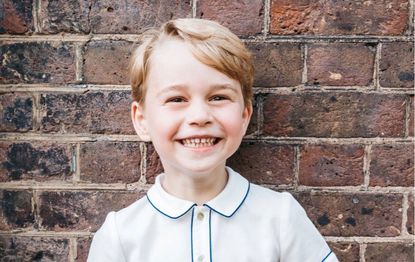 Prince George turned five-years-old on Sunday and his birthday was commemorated with a brand new portrait of the cheeky prince.
Royals fans everywhere were delighted to be treated to yet another glimpse of Kate and Wills' eldest child, in a new picture where he's seen grinning cheerfully while posing in front of a brick wall.
As soon as the picture was published, fans of the little royal rushed to comment on the snap and gushed about how cute he looks.
One said: 'A very happy birthday Prince George. What a handsome little fellow!', while another added: 'A very happy birthday to young George. What a happy smiling face '.
But while the cute snap has had nearly 1,000 retweets and over 96k likes, there is probably one detail that you missed about the portrait.
The young prince may be part of the royal family and third in line to the throne - even though he doesn't know it yet - but his birthday picture proves that sometimes he's just like any other little boy.
If you look close enough, you'll see that George has the bottom button of his pristine white shirt undone, proving that he's just like any normal child.
Parents everywhere will also breathe sigh of relief after knowing that even Kate and William struggle to get - and keep - their children dressed properly.
Prince George's birthday has been a bit different to previous years, as he now has another brother to play with and he also reportedly spent it on a very exotic location (opens in new tab).
While details of the trip have not been confirmed, the Cambridges are said to be spending a few days in Mustique, an exclusive island in the Caribbean, in what is their first holiday as a family of five.
Did you enjoy seeing Prince George in his cheeky birthday picture? Head over to our Facebook page and let us know your thoughts!