14 things we've learned about Prince George's nursery
The blond haired tot has started at Westacre Montessori school nursery in Norfolk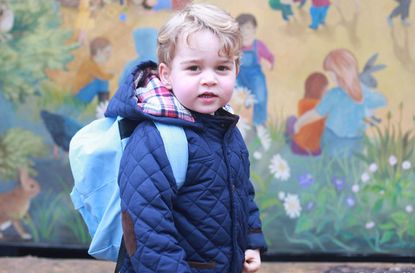 With the big news breaking of little George's first day at nursery we couldn't help but be intrigued by his parents' choice of education.
We had our first glimpse at George being a student when The Duchess of Cambridge photographed two-year-old George as he arrived at Westacre Montessori school nursery in Norfolk in an adorable quilted jacket and mini backpack.
So, 'what is Montessori?' you might be wondering. Montessori education was invented in the early 1900s by Dr Maria Montessori, to help educate poor children in her homeland of Italy and now has a huge global following as it encourages child-led learning.
With all this in mind we took it upon ourselves to find out a little more about the little Prince's new learning environment and here's what we found...
1. He really enjoys it
If the pictures weren't good enough proof that Prince George is having a great time, we can now be sure that the young royal was happy as a clam after his first day at Westacre Montessori school nursery.
Mum Kate Middleton shared details of her little one's first day as a big boy with well-wishers at the the Gallipoli anniversary in the Queen's Sandringham estate, and it appears that Kate and Wills little cherub took on his first day as a true future King.
According to BT, Kate told Mr Arthur Coxon, who was present at the ceremony that 'he went off to school bravely as anything and thoroughly enjoyed it'. We weren't expecting anything less from the cheeky Prince..
2. It seems to be something of a royal tradition
George's very own dad Prince William attended Mrs Mynors' Nursery in London and was the first British royal to ever be educated outside of the palace walls. This was no doubt under the influence of Princess Diana herself, who actually worked as a nursery assistant at the Young England Kindergarten school in Pimlico, a nursery that uses the Montessori method.
This started something of a new tradition with cousin Princess Eugenie attending the Winkfield Montessori School as a two year old in 1992.
George's first big day was a little different from his father's however, with a more relaxed atmosphere. Poor Wills had a formal photocall arranged by Kensington Palace for his arrival, whilst Kate chose to snap some sweet pictures of George herself, releasing them via Kensington Palace Twitter instead.
3. He'll be joining many other famous Montessorians
George isn't the first famous face to have walked through the doors of a Montessori school. There have been a whole host of notable celebrities on the list of past pupils, including famous cook Julia Child, cook and mother Tana Ramsay, and America's very own pop princess Taylor Swift.
4. George's backpack probably holds some fruit
We couldn't help but notice George's adorable getup, including his backpack.
We're speculating that there might be some fruit tucked away in there as one of the founding principles of Montessori schools is that children should learn to be good sharers and practice healthy eating.
They do this in part by reportedly asking each child to bring a piece of fruit to class and put it into a communal basket. Each child is then allowed to pick which fruit they'd like - we wonder if George went classic or exotic...
5...and slippers
Children at Westacre, George's nursery, are encouraged not to wear their shoes, and bring slippers instead. This helps keep the floors nice and clean for playing and probably helps minimise any sore toes from heavy shoes if little feet get stood on.
6. Mum and dad are paying £5.50 per hour- or £33 per day - to send George to nursery
The fees at Montessori schools differ, with locations like London charging more for the premium space.
George, however, will pay a rather reasonable £5.50 an hour to attend the privately funded nursery. Much better value than a private governess we're sure.
7. There'll be lots of time spent outdoors
Despite the famous British weather it looks like George will be outside and enjoying the fresh air a lot of the time.
The Montessori method states: 'Being outdoors is very important. Children develop gross motor skills as they climb, jump and swing and also social skills as they take turns on equipment and play hide and seek. Montessori believed strongly that children should be in touch with the substance of their world, encouraging work with clay, gardening and growing activities and even building little houses. Contrary to the belief that a sandpit has no place in a Montessori nursery, it has been suggested that Maria Montessori invented the idea.'
8. He'll be in a mixed age class
The small school in Norfolk, which looks to be in an old church, educates around 20 2-5 year olds. so looks like George will get plenty of attention and be making pals of all ages in no time at all.
9. It'll be a part time affair for George
It's tiring work being a prince, so George will only be attending the nursery part-time and only when he's in residence at Amnar Hall, the Cambridge's Norfolk country house.
When he's in London some sources have speculated that he'll be educated privately at Kensington Palace.
Of his first day a royal source told HELLO! magazine: 'He's going to be attending part time for a handful of hours per day. Both the Duke and Duchess dropped him off today and it seems all went well.'
10. Nobody will be telling this little Prince what to do
Montessori is founded on the belief that children do the most learning between birth and six. The teaching style also discourages directive learning from teachers and allows children to lead their own day - learning through practical play a lot of the time.
11. It'll be a short drive to school for George
Only a ten mile drive from from the family's Norfolk mansion, Amner Hall, George won't have to get up too early for his big school days.
12. There won't be any exams for George
As part of their learning at Montessori schools children are encouraged to help each other and work as hard as they can individually, but there's a deliberate emphasis on no competition. This means no exams, tests or competition between peers.
If only our parents had thought to send us to a Montessori school...
13. He'll be joining a big community
There are more than 5,000 Montessori schools in the US, and around 700 in the UK. That's a whole lot of fellow Montessori attendees for George to pal about with.
Perhaps a good start would be his 20-something classmates. We're sure he'll make friends in no time.
14. He won't have to wear a uniform
Although each Montessori school has their own uniform, at nursery ages the children are free to wear their own clothes. George opted for a rather cool quilted jacket from John Lewis, which of course promptly sold out.
So, there you have it. Everything we know about Prince George's nursery so far. What do you think of the couple's choice? Would you send your child to a Montessori school, or do you already? Let us know in the comments below!
Rosie is an experienced food and drinks journalist who has spent over a decade writing about restaurants, cookery, and foodie products. Previously Content Editor at Goodto.com and Digital Food Editor on Woman&Home, Rosie is well used to covering everything from food news through to taste tests. Now, as well as heading up the team at SquareMeal - the UK's leading guide to restaurants and bars - she also runs a wedding floristry business in Scotland called Lavender and Rose.