Prince George 'is obsessed by the police' reveals Prince William
Could Prince George have a future in the UK's police force?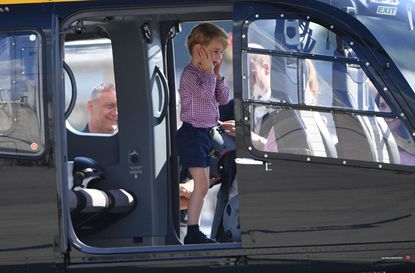 Prince George must still be getting lots of use out of last year's Christmas present, as Prince William revealed yesterday that his four-year-old son is 'obsessed' with the police.
Prince George asked for a toy police car last Christmas, with Prince William even handing a handwritten Christmas list from his young son over to 'Father Christmas' (opens in new tab) while on an official trip to Finland in November 2017. On the list, Prince George revealed that all he wanted for Christmas was a police car.
On Christmas Day, Prince William confirmed that his son had received his desired toy as a gift, and it seems that Prince George's love of police cars - and in fact all things to do with the police - has not waned since. Talking to Met Police officers and staff yesterday, Prince William divulged that four-year-old Prince George 'is obsessed' by the police.
'Cars, toys, everything' the father-of-two confessed.
Prince William joined Prince Harry at the Met Excellence Awards reception at Kensington Palace this week, where he made the revelation about his son to some of Scotland Yard's finest.
[twitter]
Despite the fact that Prince George has only just started school (opens in new tab) this year, and Princess Charlotte, who is two turning three, has only just started nursery (opens in new tab), it seems that the two royal tots already have job offers to join the police, should they ever want to.
Chatting to Prince William at the reception, PC Jayne Richardson revealed that the Kensington and Chelsea district always needed new volunteers.
'We are recruiting, actually so if George and Charlotte are keen?' the police officer joked to the Duke of Cambridge.
As well as meeting police officers who serve locally to Kensington Palace, Prince William and Prince Harry also heard inspiring stories about 'humbling acts of bravery and dedication' from officers and staff of the Met Police in the UK.