Prince George's baby album
He's arguably one of the most famous children in the world. Here we look at the cute pics making up Prince George's royal baby album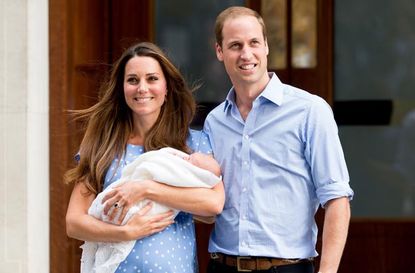 (Image credit: Rex features)
He's now a big brother to not one, but two siblings following the birth of Prince Louis on April 23. But when he was was born in July 2013, Prince George was arguably the most famous baby in the world. Here we look at the cute pics which make up Prince George's royal baby album...
Hands up if you're as obsessed with pictures of Prince George as we are?
There may be two other children in the Cambridge clan now, but we'll never forget just how much the public were mesmerised by the newest addition to the British Royal Family 0n July 22, 2013.
Would little Prince George be the spitting image of mum Kate or dad Wills? The fascination with this new little bundle of royal joy grew and grew, with us poring over pictures of the new heir to the throne.
Over the years, we've watched the new prince take his first steps, eat Kate's hair at a royal engagement, pose for very cute Christmas pictures, visit Princess Charlotte when she was born and even meet President Obama - not bad at the age of four!
Throughout his childhood, William and Kate showed that they're just normal parents at heart, with William calling George 'a little monkey' on more than one occasion...
We know that George's interests have included 'dinosaurs - particularly the T-Rex - and volcanoes', although there may be a career as a pilot in store for him yet, as during the Royal Tour of Canada in 2016, he told his mum he was going to fly the family back to England!
He's also dabbled in baking, with Kate telling children making crispy cakes at a charity event: 'When I try to do this with George at home, chocolate and the golden syrup goes everywhere. He makes so much mess. It's chaos' - so perhaps it's Paul Hollywood who needs to watch his back?
One thing's for sure, with his floppy brown hair and big eyes, Prince George was one of the most adorable royal babies of all time, and we've loved watching him grow up.
If you want a reminder of George's best childhood moments then start clicking through to see some of them - just don't blame us if the pictures make you sigh at JUST how cute he is...
Prince George: 23rd July 2013
Proud new parents William and Kate welcomed George Alexander Louis into the world on 22nd July at St Mary's hospital in Paddington.
The Royal couple left the hospital the next day and met the world's media for Prince George's first official photo call. Both Kate and William looked like happy new parents, if not a little tired after 24 hours with their newborn.
All eyes were on Kate's outfit, as she opted for a very flattering Seraphine maternity dress, which was said to retail at just £50.
Prince George: 23rd July 2013
George's first taste of the limelight as his parents take him home from hospital. He doesn't look too impressed by the thought of travelling in his car seat for the first time however.
On the day the new parents talked about how proud but exhausted they were, with William declaring 'he has a big set of lungs on him'.
Prince George: August 2013
This first family portrait was taken just a month after Prince George's birth by Kate's father Michael in the Middleton family garden.
Rather than an official photo they went down a more relaxed route, with the couple looking very happy, while George was asleep.
During an interview with CNN a few days prior, William said of George: 'He's a little bit of a rascal, I'll put it that way.'
'He either reminds me of my brother or me when I was younger, I'm not sure - but he's doing very well at the moment.'
Prince George: 23rd October 2013
Prince George wore a traditional lace robe for his royal Christening at Chapel Royal in St James's Palace, and his parents William and Kate couldn't have looked any happier.
Prince George's christening gown was made by Angela Kelly, the personal assistant and senior dresser to the Queen, who had commissioned a replica of the original because it was deemed to fragile for further use.
He was given a number of godparents on the day: Oliver Baker, Emilia Jardine-Paterson, Earl Grosvenor, Jamie Lowther-Pinkerton, Julia Samuel, William van Cutsem and Zara Tindall.
Prince George: 18th March 2014
8-month-old Prince George posed with his mum, dad and dog Lupo, for this official Mother's Day family photograph, taken at Kensington Palace.
How cute does he look in his personalised jumper?
Prince George: 7th April 2014
In April 2014, the Duke and Duchess of Cambridge embarked on their first royal tour to New Zealand with their son.
The family travelled to Wellington, Sydney and Canberra during the three-week visit, giving them plenty of opportunity for adorable Prince George pictures!
Prince George: 7th April 2014
Prince George certainly didn't look too phased by the long-haul flight to New Zealand as the family emerged from the plane.
Kate and William travelled around during their trip, but made sure to come and visit their son each night.
At the time, the couple's private secretary, Miguel Head, said: 'The tour has been designed with Prince George's consideration and comfort in mind.'
'Taking a nine month old on a Royal tour is not a first, but it has not happened in this Royal Family's context for many, many years so there has been much to think about - as any new parent travelling long distance will recognise.'
Prince George: 9th April 2014
Little PG looked as happy as Larry as he played with his toys at an event for nurses and their children while on his New Zealand adventure.
This was the young prince's first ever royal engagement, which he attended with both of his parents.
Prince George: 9th April 2014
The Duchess of Cambridge said that this was her favourite photo of all the pics taken of her and George on their Royal Tour to Australia and New Zealand.
And it's not hard to see why! George flashed his cute little grin while nestling into his mother's shoulder as she beamed contentedly.
The photo was taken by New Zealand photographer, Simon Woolf, who must have been over the moon to have snapped Kate's favourite photograph!
Prince George: 9th April 2014
Now George, you may be royalty, but that doesn't mean you can pull your mother's hair!
Cheeky PG was pictured having a nibble on Kate's famous locks when out and about in New Zealand. Living up to his nickname as a little monkey, we see!
Prince George: 20th April 2014
We've already shown you Kate's favourite picture from the Australia and New Zealand tour - but we think this might be ours. Just look at that smile!
George met this little creature, called a bilby, on Easter Sunday at Sydney's Taronga Zoo, in an enclosure named in his honour - and the cutest thing of all? The bilby's name is George too! No wonder the prince looks so pleased...
Prince George: 20th April 2014
During the visit to the zoo, George was also presented with a toy bilby, but seemed more interested in eating this orange envelope instead.
Well, it must have been hungry work being this cute...
Prince George: 20th April 2014
'I'm here!' Little George looked lovely in blue as he greeted his adoring fans in Canberra, Australia, during another appearance on the tour.
His mum Kate also wore a coordinating coloured dress by Stella McCartney for the arrival, and Wills joined in with a cornflour blue tie.
Prince George: April 2014
Another cheeky moment!
The little prince gives Aussie MP Andrew Leigh's son's nose a little poke in Australia's capital.
Prince George: 25th April 2014
The family were pictured waving goodbye as they left Canberra and headed back to London.
Prince George looked slightly less enthusiastic about this flight, we notice - perhaps he'd had too much fun on the trip!
Prince George: 15th June 2014
Sitting in your throne all the time can actually get pretty boring, so in June 2014 little George decided that enough is enough, he's going to get about more.
Here he is pottering about hand-in-hand with Kate (he was still a bit wobbly at this point) in Gloucestershire, where his dad and uncle Harry were playing polo. George wasn't bothered about that, he was more interested in touching the pretty ponies, but thankfully Kate was just one step behind to check he didn't get too close.
Prince George: 21st July 2014
At almost one year old, gorgeous George was making movements all on his own. Last time we saw the little Prince on his feet he still needed the support of his mum's hand to keep him steady, but this picture showed that he'd got this walking thing down to a T.
The picture was released by the Press Association in honour of the Prince's birthday on 22 July 2014, along with two other equally adorable snaps.
Prince George: 22nd July 2014
Happy Birthday Prince George!
In this touching shot, George sat on Kate's knee while pointing at a butterfly that had landed on William's hand.
The snap was taken by John Stillwell when George visited the 'Sensational Butterflies' exhibition at the Natural History Museum earlier in July 2014.
Prince George: 22nd July 2014
Kate held her then-11-month-old son in her arms on a family trip out as George reached out towards the butterflies flying around overhead.
This photo was the third and final to be released by the Press Association to mark his 1st birthday. The Duke and Duchess said of the occasion:
'We would like to take this opportunity on George's first birthday to thank everyone over the last year, wherever we have met them, both at home and overseas, for their warm and generous good wishes to George and our family.'
Too bloomin' cute.
Prince George: 13th December 2014
Kate and Wills released George's official Christmas 2014 pictures via Facebook, with the British Monarchy's page saying: 'The latest photos of Prince George for you! Our little Prince is pictured sitting on the steps of Kensington Palace.'
The pictures were the first release since Prince George's first birthday in July, and little George looked as happy as could be as he sat on the steps of his London home, wearing navy shorts and a classic knitted Christmas jumper. With rosy cheeks and a big cheeky smile, this little Prince appeared to only be getting cuter with age.
Prince George: 13th December 2014
Just look at those chubby cheeks! We bet Prince George has one doting grandmother...
It is thought that these Christmas portraits were released by
Kate and William as a special thank you to the press for respecting
their wishes to let Prince George grow up in relative privacy.
Royal
commentator Robert Jobson said: 'I think what's important about these
photographs is that the royal family have released them in
acknowledgement that the paparazzi have allowed Prince George to grow up
without intrusion. And I think that's very much a thank you in a way.'
Prince George: 13th December 2014
Last one, and could he get any cuter?
George expertly modelled Kate's choice of classic baby wear. He certainly looked dashing, so good job mum!
Prince George: 2nd May 2015
This was a big day for Prince William and little George!
William was taking his son to visit the Prince's newborn baby sister at the Lindo Wing at St Mary's hospital, where Kate Middleton gave birth earlier in the day.
Here the pair are (both wearing matching blue jumpers) giving a little wave to the cameras outside.
Prince George: 2nd May 2015
Looks a little bewildered doesn't he? Don't worry George, you'll be driving your little sister mad in no time!
William initially popped George on the floor to walk in to meet baby Charlotte, but a reach of the arms indicated he'd much rather be carried by Dad as he took on his big brother responsibilities for the first time. Bless!
Prince George: June 2015
George wasn't the only royal baby ruling this parade! Zara and Mark Tindall's little girl, Mia Grace, was also at the polo with her famous parents. Here she is on the far left of this picture. What a cutie!
We love how relaxed the two mums look in these snaps. It's thought that little Charlotte stayed at home for the day.
Prince George: June 2015
This snap was taken a year after that we first saw pictures of little PG attending the polo, and showing off some of his first steps.
Here he is another year older, playing with his mum on the grass while his dad and uncle Harry take part in a polo match in Gloucestershire.
What is the obsession with kids and picking grass, by the way? Little George has got quite the handful!
Prince George: June 2015
Oh George, you little joker. Anyone else get the feeling that the young Prince is going to be quite the character when he grows up?
Here he is in June 2015, seen from one of the windows of Buckingham Palace, in the arms of his nanny, Maria Teresa Turrion Borrallo.
Prince George: June 2015
Totally unfazed by the thousands of faces staring up at him from The Mall, not to mention the fly-past by the Royal Air Force up above, this was George's first official appearance on the balcony of Buckingham Palace, and he looked to be holding the attention of everyone, including mum, dad, grandma and grandad!
The family were attending the Trooping the Colour ceremony, which marks the Queen's official birthday, and is held in June every year.
'Prince George's first appearance on the balcony wearing the
same outfit his father wore at HM's Birthday Parade 1984,' Kensington Palace added on Twitter - what a nice touch!
Prince George: June 2015
What a picture of innocence these two made in these gorgeous portraits, taken by The Duchess of Cambridge in the family home in mid-May.
The photograph was one of four shared on the Kensington Palace Instagram account, instantly melting millions of hearts around the world.
Prince George: June 2015
George gazed adoringly at little Charlotte throughout the series of images, every inch the proud big brother.
Charlotte is thought to have been just two weeks old when these pictures were taken - aww!
Prince George: June 2015
In one of the snaps, George delicately planted a kiss on his little sister's head.
If only our kids posed this beautifully with each other, eh?
Prince George: June 2015
The last in this set of portraits, and a smile for the camera at last!
Anyone else like to imagine that Wills and Kate were running around behind the camera getting George to 'watch the birdie'? No? Just us then.
Prince George: July 2015
Here George sports a cute white shirt and red shorts combo as he attends his sister Charlotte's christening at St. Mary Magdalene Church on the Queen's Sandringham Estate in Norfolk.
In another throwback, the get-up is an almost identical outfit to the one William wore on the birth of his then baby brother, Harry, in 1984.
Prince George: July 2015
'Why are we hanging out over here with the Archbishop when there are fans and photographers screaming my name?'
We couldn't help but notice that His Royal Highness kept one eye on the photographers at all times! But he did seem unphased by all of the attention.
Prince George: July 2015
Peekaboo George! The little Prince, seemingly bored with the company of his parents and the ministers, looked as though he was ready to get back in the limelight.
Well, he can't keep those adoring fans waiting, can he?
Prince George: July 2015
It looked as though Prince George already had some tricks up his sleeve for getting his parents' attention focused back on him, as well as grandparents, close protection officers, and the well-wishers in the crowd.
Fed up of having to walk while his baby sister hitches a ride in a cosy pram, Prince George asked Prince William to give him a ride up to the church where Charlotte was due to be christened.
Prince George: December 2015
This family picture was the Cambridge's Christmas card for 2015, which they chose to release to the public. It taken in October of the same year by photographer Chris Jelf.
'The Duke and Duchess are hugely appreciative of all the warm messages they have received about their family this year and are very much looking forward to their first Christmas as a family of four,' the message alongside the image read.
Prince George: 6th January 2016
The first day of school for the little Prince!
In these pictures, shared on the Kensington Palace Instagram account, Kate and William's little bundle of joy looked ready for the first day at nursery in Norfolk.
Like any other proud mother, the Duchess of Cambridge took this adorable picture of her son on his first day of school. How cute is he with his little backpack?
Prince George: 6th January 2016
Kensington Palace also shared a second photo of the royal, and George's excitment for starting at his new school was clearly visible.
Dressed in a puffy blue coat with an all-important hood, Charlotte's older brother looked ready to make some new friends at Westacre Montessori School nursery.
Prince George: March 2016
George's first skiing holiday was a success if this happy snap of the Cambridge family is anything to go by.
The foursome headed to the French Alps for their first private holiday, marking the first time either of the children had played in the snow.
'It was very special and fun short holiday for the family, and they are grateful that John Stillwell was able to capture the moment so well. The Duke and Duchess hope people enjoy the photos,' a spokesperson said at the time.
Prince George: April 2016