Prince Harry and Prince William are using WhatsApp to keep in touch with their royal relatives
They're just like us...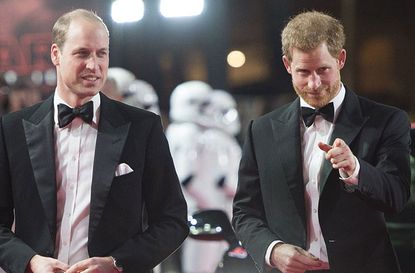 Prince Harry and Prince William are using WhatsApp to keep in touch with their royal relatives, according to their cousin, Mike Tindall.
It's been an eventful last few months for Queen Elizabeth's big family - Kate and Prince William announced they were expecting their third child (opens in new tab); Meghan and Prince William made their engagement (opens in new tab) public (as did his cousin, Princess Eugenie (opens in new tab)); and yet another royal baby was announced to be on the way, Mike and Zara Tindall's second child (opens in new tab).
With so many exciting news, we're not surprised to hear the younger members of the royal family are using technology to keep up with what's going on in each other's lives.
There's been a lot of family news for the royals to keep up with recently, including Kate's third pregnancy In an interview with the Mirror, Mike Tindall revealed that there's a royal family WhatsApp group, which includes Zara's cousins.
'Me, my brother and then a few of Zara's side like her brother Pete and the cousins are on WhatsApp groups', he said.
'I wouldn't say we're cutting edge, but it's just easier for some reason on WhatsApp. I'm in about 25,000 groups.
We wonder if Prince Harry spilled his engagement news on WhatsApp before making the official announcement...
'You might do it for a get-together and just stay on the group, and occasionally people will post. You're scared to leave because you don't want to be seen to be rude.'
Speaking about the big year ahead for the royal family, Mike said that the most important thing for them is the baby they're expecting .
'We will be going to Harry's and Eugenie's weddings – well I think so, we haven't been invited yet though.
Zara and Mike are currently expecting their second child together
'We're looking forward to them, but the big thing this year will be the new one on the way.
'That, I think, will be the most important thing to happen this year. I don't think there is too much to worry about except that. And if it goes well, we'll be happy.'
The former rugby player also revealed that he's getting ready to be a stay-at-home dad, as Zara will start training for the 2020 Olympics in Tokyo, after giving birth to their second child.
'The wife will want to get back to riding as soon as possible. She's still motivated for the Olympics, so I've got to help her to achieve that.'