We earn a commission for products purchased through some links in this article.
Prince Harry had an emotional reunion today with an injured service woman as she handed him a dog tag in memory of her fallen colleague.
American Kirstie Ennis, 24, suffered life-changing injuries in June 2012 as a helicopter gunner in Afghanistan for the United States Marine Corps.
For the last 10 weeks, she and five other ex-servicemen have been walking the length of Britain in a 1000 mile challenge, which began in Moray, Scotland with the charity Walking With The Wounded.
Along the entire course Kirstie has been laying dog tags for her colleagues who were killed in action and was due to place the final one outside Buckingham Palace.
Instead, in a heartbreaking moment she decided to hand the final tag, commemorating her 21-year-old colleague, to Prince Harry who initially refused to take it, saying: 'No I can't, I can't accept this.'
But the wounded soldier insisted; 'Please… I want you to.'
At this moment the young prince was fighting back tears, visibly choked up, and hugged Kirstie saying 'This means so much to me.'
This is not the first time the pair have met, as Harry joined the walk earlier in the course, helping to place tags in Shropshire and Norfolk.
It is part of his work promoting the Invictus Games for returning servicemen – he is also a patron of Walk Of Britain.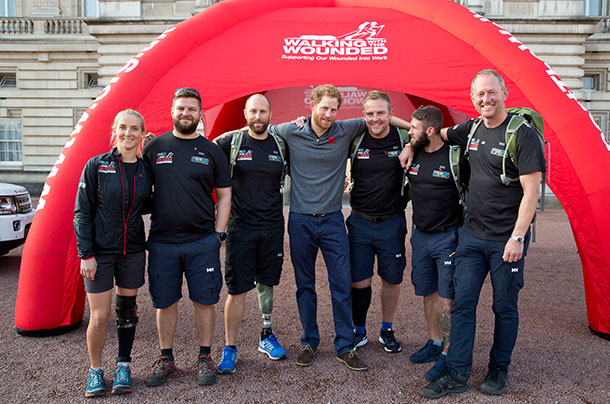 Kirstie, who has had 38 operations since the accident, was meant to have her injured leg amputated and replaced with a prosthetic leg earlier this year, so that she is able to walk without pain.
But she decided to postpone the surgery until after the walk; 'It was quite painful and there is nothing you can do to prepare for that, even when you are able bodied, much less when you have debilitating injuries.'
Referring to her fallen colleague, she said: 'I look at situations like that, he never came home, he had a wife and a family but he never came home. The six of us here today did come home, we are actually the lucky ones. The least we can do is share their legacy and honour their memory.'