We earn a commission for products purchased through some links in this article.
Prince Harry and Meghan Markle have been given 'formal consent' by the Queen to marry.
Although Her Majesty had already given the couple her blessing, and was said to be 'delighted for the couple' upon hearing the news of their engagement, thanks to a very old law the Queen also have to give her official 'approval' before the wedding takes place in order for the marriage to count.
This is thanks to the Royal Marriages Act which was passed all the way back in 1772 which declared that all descendants of George II had to obtain the sovereign's approval before getting married. In 2015, the Succession to the Crown Act was passed that updated the law and said that only the first six heirs to the throne needed to get the sovereign's formal consent before marrying. So, the same formal consent was given by the Queen before Prince William married Kate Middleton in 2011.
In the document containing the Queen's formal consent for Prince Harry and Meghan to marry, which was made public on the Privy Council website, the Queen's deep affection and love for her grandson was evident. In the document, Her Majesty refers to Prince Harry as her 'Dearly Beloved Grandson' – although she's not playing favourites as she called Prince William the same in 2011.
The announcement that the Queen has given formal consent to the marriage of Prince Harry and Meghan Markle comes just days after bride-to-be Meghan attended her first official engagement alongside the Queen and the other members of the royal family.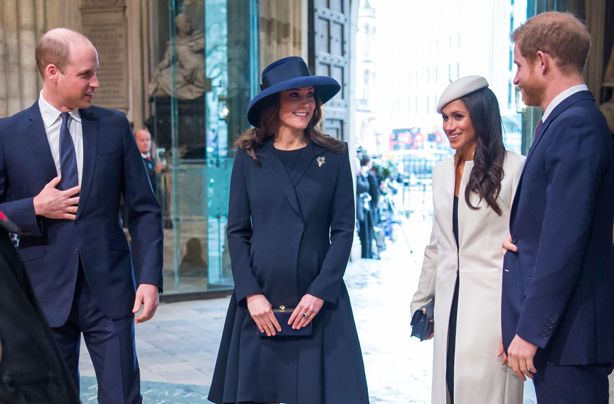 Prince William and Catherine Duchess of Cambridge with Prince Harry and Meghan Markle at Westminster Abbey
Looking smart in a navy dress and white coat with a stylish white beret hat, Meghan Markle joined Prince Harry, Prince William and a very pregnant Kate Middleton to attend the annual Commonwealth service at Westminster Abbey.
Chatting to schoolchildren outside Westminster Abbey after her first official engagement with the Queen, Meghan Markle revealed that she was 'very excited' about her upcoming nuptials in May.