Prince Harry and Meghan Markle reveal more details about their wedding guest list
There are some very special people invited to the couple's big day!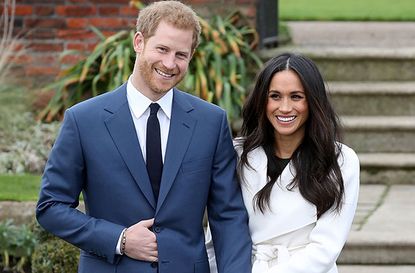 Prince Harry and Meghan Markle are getting married in just over a month, and with the preparations for the big day well underway, Kensington Palace have now released a few more details about the couple's guest list for the wedding.
Prince Harry and Meghan are getting married in St.George's Chapel, which is situated in the grounds of the Queen's Windsor Castle estate. The chapel is significantly smaller than the grand venue of Westminster Abbey that the Duke and Duchess of Cambridge had as their wedding venue in 2011, and as such, Harry and Meghan have a much stricter guest list for their big day.
As many couples will relate to, a smaller venue means fewer guests – and that means that some important people sometimes don't always make the cut! In the case of a royal wedding, this means the likes of Prime Minister Theresa May, as well as official foreign dignitaries such as the President of the United States.
Kensington Palace revealed yesterday that it is likely that everyone inside the intimate St.George's chapel will know either Prince Harry or Meghan Markle personally, or be friends with the couple.
A spokesman from the Palace said, 'It has been decided that an official list of political leaders – both UK and international - is not required for Prince Harry and Ms. Markle's wedding. Her Majesty's Government was consulted on this decision, which was taken by The Royal Household.'
As well as friends and family of the couple who will attend the service in the chapel and the wedding reception afterwards, 2,640 have been invited to Windsor Castle on the day of the wedding, including some young people who 'have shown strong leadership, and those who have served their communities.'
Included in this special list is a young survivor of the Manchester terror attack last year, a deaf schoolboy who uses his lunch break to teach his classmates sign language and a young girl who works with disadvantaged youngsters.
As more details of the guest list for Harry and Meghan's wedding are announced, the personal guests of the couple are yet to be revealed, although the star-studded line-up is expected to include A-list celebrities from around the world including top sports stars, Hollywood actresses and famous faces from the world of fashion and design.
An internationally published digital journalist and editor who specialises in SEO strategy and content production, Rachael has worked as a writer and editor for both news and lifestyle websites in the UK and abroad. Rachael's published work covers a broad spectrum of topics and she has written about everything from the future of sustainable travel, to the impact of the coronavirus pandemic on the world we live in, to the psychology of colour.