Rosie Fortescue reveals her pet pooch has passed away
Sad news for reality TV star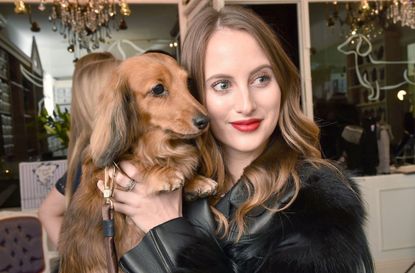 Sad news for reality TV star Rosie Fortescue this week as the Made in Chelsea veteran revealed that her beloved pet pooch has passed away.
Reduced to tears in a video posted to her Instagram story ealier this week, Rosie Fortescue revealed that her beloved dog, Noodle, was 'really not well' and needed to stay in an animal hospital overnight.
After posting a series of heart breaking images of the pup, the Made In Chelsea star went on to thank London Animal Hospital for all of their 'help and support for Noodle.'
'We are so grateful, but heartbroken to let her go' the star added to her Instagram story yesterday.
'We know she is no longer in pain and that's what matters the most.'
The 28-year-old also posted a photo to her Instagram account showing her and Noodle cuddled up next to each other. In her caption to the image, Rosie paid tribute to her loyal and loving pet who she had for 14 years.
'Rest in peace darling Noodle' the heartbroken star wrote. ' I couldn't have loved you any more for 14 of the best years of my life.'
'You made us so so happy and I am forever grateful for your love.'
'I'm going to miss you so so much and my heart is broken Sleep well little one.'
Friends and fans of the star rushed to send their condolences to Rosie and flooded the comments of her Instagram pictures with sympathies.
Girlfriend of former Made In Chelsea star Spencer Matthews, Vogue Williams - who is currently pregnant with her first child - added a series of love hearts in the comments, sending her love to the star.
While fellow Made In Chelsea star Louise Thompson shared her disbelief at the sad news: 'WHAT' she wrote, 'No no no no no.'
Another friend of the star wrote, 'Sending you all the love in the world darling girl.'
An internationally published digital journalist and editor who specialises in SEO strategy and content production, Rachael has worked as a writer and editor for both news and lifestyle websites in the UK and abroad. Rachael's published work covers a broad spectrum of topics and she has written about everything from the future of sustainable travel, to the impact of the coronavirus pandemic on the world we live in, to the psychology of colour.