11 signs you're the (proud) mum of feral kids
You don't use the term 'wild child' lightly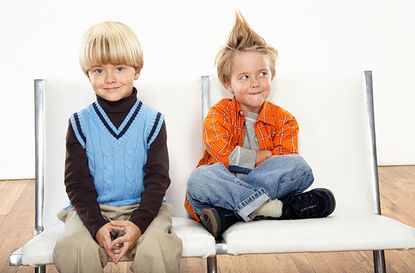 Although your darling children weren't actually raised by wolves in the Ugandan rainforest, sometimes you can't help but think they're a little more – well, wild – than you'd like them to be.
Orderly journeys on public transport and eating with a knife and fork are luxuries that you, the (proud) mum of feral kids, can only dream of. And though you know that all children are a handful, searching for straitjackets on eBay was probably the point that you knew yours were on another level.
But still, you wouldn't have them any other way, right?
1. The school gates are a war zone
Your kid gets into trouble a lot at school, sure, but having the other mums see how horrible they're being when you drop them off in the morning is somewhat excruciating.
2. Your kids climb more than they walk
You thought – reasonably enough – that crawling would just be a phase in their development. And though they can walk upright for special occasions (namely weddings and christenings), their philosophy of 'the whole world's a climbing frame' means they spend the vast majority of time with their feet off the ground.
3. You own a leash and you aren't afraid to use it
Okay, so the straitjacket incident was a moment of madness (and awkward as hell to explain to hubby when he walked in), but you have no qualms about harnessing and tethering your child when you're out about, just to be sure they don't set fire to anything.
4. Judging stares and tutting strangers are basically white noise to you
You're sure they're all perfect parents with perfect little angels. Their snobbery is like water off a duck's back.
5. You're still not sure they always wipe their bum after using the loo
Potty training (opens in new tab) was THE WORST – but you're not going to continue supervising them into their fourth, fifth years and beyond; they've had that. Those incriminating marks on their pants will continue to be ignored.
6. You steer clear of mum pals unless they also parent feral children
Coincidentally, your child also attracts other feral children, and so play dates can only really be supervised by experienced troopers. God forbid they pee on Lilly's mums geraniums (again).
7. Your kids have an intense bond with the family pet
Whether you've got a dog, a cat, or just a few slugs in the back garden, your child seems to get on way better with them than other kids – once you finally managed to teach them that slugs are not food, anyway.
8. Hair brushing and nail clipping are a monthly chore you anticipate with dread
And it's almost not worth the inevitable, Richter-scale tantrum that goes with it. You've considered shaving their heads as the sane, rational solution.
9. You sometimes forget that they weren't actually born with soot-black soles on their feet
Shoes, poos! Your child has no time for footwear and since they love nothing more than playing in dirt, you haven't seen clean feet in many months. The absence of regular bath times, too, means actually getting them clean is no mean feat.
10. There is not a single item in your child's wardrobe that doesn't have a hole or a permanent stain on it
You're hoping by the time they turn 18 you'll be able to buy them a pair of jeans that lasts longer than two weeks.
11. You know you shouldn't say it, but you find non-feral children boring
Unpeeling them from the chandeliers is a small price to pay for offspring who offer endless giggles, a new lesson every day and inspire you to enjoy that same zest for life as they do. You'd be rubbish as a smug mum of little angels – it wouldn't be half so much fun.