Sharon Marshall reveals she's pregnant with her first child live on This Morning
The announcement was made while Sharon talked Holly Willoughby and Phillip Schofield through the latest storylines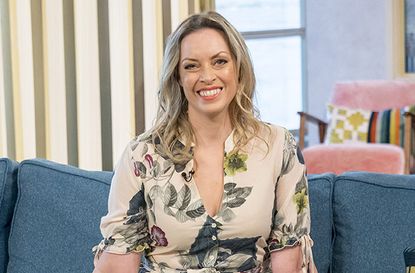 Sharon Marshall struggled to hide her emotions while appearing on This Morning before announcing the exciting news of her pregnancy.
During a chat with hosts Holly Willoughby and Phillip Schofield, the show's resident soap expert broke the news that she's going to be a mum.
'Yes, I'm pregnant so probably going to say everything wrong,' a beaming Sharon said.
The 46-year-old's tears started falling when Phillip commented that she's 'blossoming'.
Sharon - who looked ever so elegant in a floral dress - went on to tell viewers that she will welcome her baby in July.
Clearly thrilled by the news, Holly exclaimed: 'It is the most wonderful news.'
And curious to know if Sharon had shared her secret with anyone else on the This Morning team, Phillip, 56, probed for more details. Unable to keep it in, Sharon confessed she'd spoken to Dr Chris Steele.
She said: 'Well, I told Dr Chris very early so he has been keeping the secret. Myself and my partner Paul Fletcher we're 14 weeks along, and we let Dr Chris into the secret a little while ago. He is the king of the corridor consultation. We tell him everything.'
[twitter]
[/twitter]
Sharon later took to Twitter to express her gratitude for all of the congratulatory messages that followers had kindly sent while she talked Holly and Phillip through the latest TV storylines.
She also uploaded a picture of her black and white scan.
'Thankyou so much for your lovely messages, Paul and I are beyond happy. ❤️,' she gushed.
Sky news presenter Kay Burley, 57, left a comment within minutes of Sharon's Tweet being sent out.
'Oh my darling. I'm absolutely thrilled for you both. Huge congratulations from us,' she commented.
As well as presenting the soap slot on This Morning, Sharon has written the scripts for numerous episodes of soaps such as EastEnders and Emmerdale.