Stacey Solomon is hailed 'an inspiration' by fans after her candid confession about being a single mother
The singer and TV presenter was flooded with kind messages from admirers after sharing a moving post online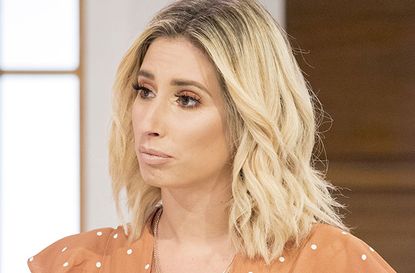 Stacey Solomon has spoken frankly about the realities of being a single mum.
The TV star - who has two sons named Leighton and Zachary - described the conflict in her emotions, which leaves her feeling both tearful and empowered.
'Sometimes being a single mum makes you want to cry but on a day like today I'm so excited to know that with my unconditional love and attention my boys are going to be bad ass feminists, (feminism meaning: equality of the sexes) fighting for equality and knowing how to respect women,' she wrote on Instagram.
'#100YearsOfTheVote #suffragette #equality #love #100years.'
Stacey, who found fame while appearing on the sixth series of The X Factor back in 2009, accompanied her powerful words with a sweet black and white image.
The picture sees the 28-year-old gazing thoughtfully into the distance while cuddling one of her boys.
[instagram]
[/instagram]Quickly netting over 44,000 'likes', Stacey was praised for sharing her honest views on the social networking site.
'You are an amazing person Stace, an inspiration to many young single mums I'm sure. Keep it up girl we love ya,' said one.
Another added: 'I'm raising two boys of my own and they will always treat women with respect. It's my mission to single mum them into amazing men xx.'
A third Instagram follower went on to say that Stacey has a knack of saying the right thing at the right time.
'Thank you @staceysolomon for being a shining beacon for single mums and women in general,' they commented.
'Sometimes your posts just seem to pop up at the right time xx.'
The father of Stacey's oldest son, Zachary, is the Loose Women regular's childhood sweetheart Dean Cox, while Leighton's dad is her ex-fiancee Aaron Barnham.
Although she'd love to have children with her EastEnders actor boyfriend Joe Swash, 36, Stacey last year admitted that the thought of expanding her brood makes her feel uneasy.
'I always have an overwhelming sense of guilt that if I were to make my family greater, that I would impact on them socially and emotionally,' she told the Huffington Post.
'There's definitely been times in my life where I've felt the stigma of having multiple children from different partners.'