Tamara Ecclestone criticised by fans for buying her daughter another puppy
What do you think?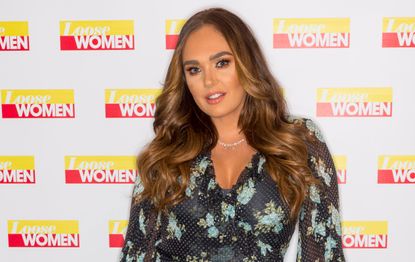 GoodTo newsletter
Sign up to the GoodTo Newsletter. You can unsubscribe at any time. For more information about how to do this, and how we hold your data, please see our privacy policy
Thank you for signing up to . You will receive a verification email shortly.
There was a problem. Please refresh the page and try again.
Tamara Ecclestone has previously admitted that she has lost count of how many dogs she owns and has come under fire for buying her daughter yet another puppy.
Mum-of-one Tamara Ecclestone dotes over her four-year-old daughter Sophia and has been open about her wish to give her daughter everything she could ever possibly want.
From lavish birthday parties to special family holidays, there is little Sophia has had to live without so it's no surprise that she's been blessed with lots of furry friends to keep her entertained too.
Yet viewers of Tamara's reality show were shocked when she revealed last November that she had lost count of how many dogs she owns.
Sophia lives a life of luxury and leisure
In an interview with The Mail On Sunday in June it was reported that Tamara has 15 dogs at that time.
The latest addition to the family is Fluffy, a white Maltese puppy and Tamara confirmed she had bought the pup with a post on Instagram.
In the caption Tamara joked: 'Now the cats out bag or actually the pups out the bag and we broke the news to @jayrutland meet our new addition Fluffy 💙'.
She followed up the post with another sweet picture showing Sophia cuddling her new pup. Tamara wrote: 'Fifi and Fluffy the start of many adventures 💙'.
Yet given the admission on her show that she had lost count of how many pets were in her home, people have flooded the posts with criticism and called the Formula 1 heiress out as irresponsible.
One person said: 'What about all the other dogs you constantly have someone else look after?!!!! Disgraceful, it's not a toy!'
Another wrote: 'They have probably got rid of loads. Last count there was at least 8 or more. Feel sorry for all the ones that get zero attention.'
A third quizzed Tamara over the fate of Teddy, one of her favourite dogs that regularly features on her feed. They wrote: 'Does that mean teddy has been downgraded to the basement cages with the rest of the designer hounds you stash like Hermes bags?'
However, the comments are not all negative. The pictures have thousands of likes and many of the comments are either defending Tamara's decision or focussing on the adorable little fluff ball pup.
Tamara replied to one of the comments and sassily said: 'I am sure all my dogs are happier than you are ✌.'
She also confirmed that Teddy was still with the family and was safe. Tamara wrote: 'no teddy is currently living his best life in la where we will meet him shortly. Now bore off 🤚'.
One fan backed the millionaire mum, saying: 'Well said Tamara. You tell the haters. Jealous springs to mind. xx'.
Another fan gushed: 'Look how happy she is ✨❤'.
What do you think? Has Tamara been irresponsible or does she have the right to do whatever she likes? Head over to our Facebook page to join the conversation, we'd love to hear your thoughts!