The Tapper family 'taking a break' from Gogglebox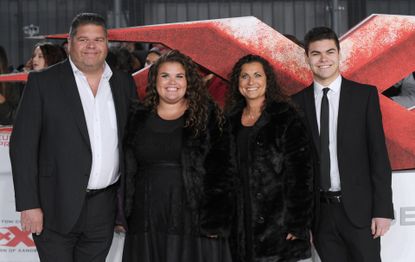 Channel 4 have confirmed that the Tapper family won't be appearing in the current series of Gogglebox, in news that is bound to devastate the show's legions of fans.
Dad Jonathan, mum Nikki, son, Josh and daughter Amy are one of the original families from the hit armchair critic series, which first appeared on screens in 2013.
21-year-old Josh was the first member of the hilarious North London family to step away from the sofa, leaving the show in series 10 after securing a prestigious civil service apprenticeship at 10 Downing Street.
Producers of the Channel 4 show have now stated that the rest of the family is following suit - albeit not permanently - confirming that they're 'on a break' from cameras.
A statement said: 'The Tappers are currently on a break but have not left the show.'
Amy also told OK! magazine online: 'I will most likely not return to the show, I'm going to go travelling so I won't be on the next couple of series anyway.'
While the reason behind the Tapper's decision not participate in series 12 in unclear, we do know that Amy is working on another big TV project.
The 18-year-old will soon be appearing in series five of E4's Celebs Go Dating. And, in another potential indication of Amy's future career plans, last year fans were bowled over when a video of the teenager singing a rendition of Adele's Someone Like You was posted by her proud mum on Twitter.
While we have no idea chauffeur, Jonathan and nursery teacher, Nikki are using their time out from Gogglebox to explore other TV avenues, we do know that past Gogglebox stars have gone on to forge their own TV careers.
Kent couple Steph and Dom went on to front Channel 4 series Steph and Dom's One Star to Five Star, drawing on their experience of running a high-end B&B in Sandwich.
Scarlett Moffatt continued to make a name in reality TV winning I'm a Celebrity Get Me Out of Here in 2016, and going on to become a successful presenter (opens in new tab).
Sandra Martin - originally partnered on-screen by her best friend Sandi - also went on to star in reality shows including ITV's 100 Years Younger in 21 Days.
Freelance Lifestyle Writer
Miriam Habtesellasie is a freelance lifestyle writer who has contributed content to GoodTo, Woman&Home, Women and Idealhome.co.uk. Miriam is based in London and is a fan of everything interiors, she admits to being spoilt for choice living in the capital. From stunning architecture right the way through to eye-catching department store window displays, she believes there's always an angle to be found that can translate to our abodes.